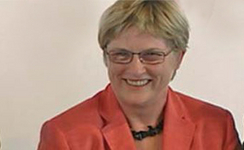 Ursula Haubner (1945 – )
FPÖ Federal Party Chairwoman from 2004 to 2005
Member of the Federal Council from 1994 to 1996
Federal Minister for Social Security, Generations and Consumer Protection from 2005 to 2007
Provincial Minister of Upper Austria from 1997 to 2005
Ursula Haubner was FPÖ federal party chairwoman from 2004 to 2005, which made her the second woman to lead the Freedom Party of Austria. Haubner made a name for herself at provincial and national level above all in social and family policy. From 2003 to 2006, she was Secretary of State (junior minister) in the Ministry for Social Affairs and from 2005 to 2007, she was Federal Minister for Social Security, Generations and Consumer Protection. She was also the long-time national and provincial spokesperson of the initiative Freedom Party Women ("initiative Freiheitliche Frauen", or iFF))
Short biography
Ursula Haubner, née Haider, was born in Bad Goisern, Upper Austria, on 22 December 1945. Her father was a shoemaker and her mother a teacher. She is the sister of former FPÖ federal party chairman Jörg Haider, who died in 2008. After her secondary schooling in Bad Goisern, she attended the Secondary School for Economic Professions in the neighbouring town of Bad Ischl from1959 to 1963. Having graduated from high school, she attended teacher training college in Innsbruck and subsequently worked as a qualified home economics teacher. She taught at vocational, middle and high schools in Bad Ischl, Linz and Steyr. Haubner was among other things subject leader for practical instruction at the Secondary School for Economic Professions (HBLA) in Steyr.
Ursula Haubner began her political career at the municipal level (at that time for the FPÖ) in her home town of Bad Hall in the Upper Austrian district of Steyr-Land. She became a member of the municipal council and city councillor of Bad Hall in 1991 and held this office until 2003. In addition, Haubner was district FPÖ party leader of Steyr-Land from 1998 to 2005 and local FPÖ party leader in Bad Hall from 1989 to 1995. From 1994 to 1996, she was a member of the Federal Council in the Austrian Parliament. In 1996 she became an FPÖ member of the Upper Austrian parliament and served there until 1997. In November 1997 she was sworn in as a member of Upper Austria's government, where her ministerial portfolio covered the environment, women and consumer protection. She held this position until 2003.
At the beginning of 2003, a second black-blue coalition was formed under ÖVP Federal Chancellor Wolfgang Schüssel. Ursula Haubner thereupon moved from provincial to federal politics and in February 2003 joined the Schüssel II cabinet as junior minister (state secretary) in the Ministry for Social Affairs, where her responsibilities were for family, youth and senior citizens, as well as for consumer protection. In January 2005 she succeeded Herbert Haupt as Federal Minister for Social Security, Generations and Consumer Protection. Having previously already been considered one of the pioneers of the child benefit introduced by the ÖVP-FPÖ coalition, Ursula Haubner had little trouble establishing herself within the ÖVP-FPÖ federal government as a Freedom Party social policy specialist. She also distinguished herself as the Freedom Party's chief negotiator on parents' rights to part-time employment contracts. Ursula Haubner was also active in women's policy. For example, she advocated for a better balance between work and family life. Her main concern in this regard was also to encourage girls to look more favourably on sectors of the economy offering higher earnings. Political observers attested to her having at this time demonstrated tenacity and stamina, as well as an ability to be a smart and accomplished social policy specialist.
From 2004 to 2005, Ursula Haubner was also leader of the FPÖ, which had been plagued by significant turbulence since its 2002 National Council election defeat. Herbert Haupt had resigned as FPÖ federal party chairman in the wake of further internal party turmoil connected to the spring 2004 European Parliament election and in July 2004, Ursula Haubner was elected FPÖ federal party chairwoman. Indeed, she had in October 2003 already been appointed executive federal party chairwoman. Following further political setbacks for the FPÖ, the conflict between the party leadership and the national wing escalated, however.
On 4 April 2005, Ursula Haubner stood down from her position as FPÖ federal party chairwoman, resigned from the party and founded the Alliance for the Future of Austria (Bündnis Zukunft Österreich, or BZÖ) with other Freedom Party members of the federal government and with her brother Jörg Haider. Ursula Haubner remained Minister of Social Affairs until January 2007, however, and following the October 2008 National Council election, she re-joined the National Council as a BZÖ MP.
Main political positions
| | |
| --- | --- |
| 1991–2003 | City Councillor, Bad Hall |
| 1994–1996 | Member of the Federal Council |
| 1995–2003 | Federal Chairwoman of the "initiative Freedom Party Women" |
| 1996–1997 | Provincial Member of Parliament, Upper Austria |
| 1997–2003 | Provincial Minister of Upper Austria |
| Since 2003 | Municipal Councillor, Bad Hall |
| 2003–2004 | Executive FPÖ Federal Party Chairwoman |
| 2003–2005 | Secretary of State (junior minister) in the Ministry for Social Affairs |
| 2004–2005 | FPÖ Federal Party Chairwoman |
| 2005–2007 | Federal Minister for Social Security, Generations and Consumer Protection |
| 2006–2013 | Member of the National Council |