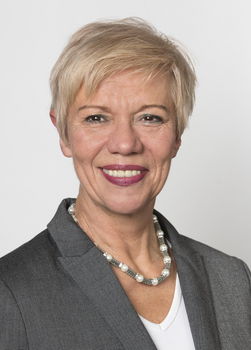 Monika Mühlwerth (1954 – )
Chairwoman of the FPÖ Federal Council Parliamentary Group (2009-2020)
Member of the Federal Council (1996-2001 and 2006-2020)
Vice-President of the Vienna School Board (2001-2006)
Federal Chairwoman of the "initiative Freedom Party Women" (2006-2011)
Monika Mühlwerth was a long-serving Chairwoman of the FPÖ Federal Council Parliamentary Group, Vice-President of the Vienna School Board and Federal Party Chairwoman of the "initiative Freedom Party Women" (iFF).
Short biography
Monika Mühlwerth was born in Vienna on 24 April 1954. Following her compulsory schooling, she undertook an apprenticeship as a retail saleswoman. After completing that apprenticeship, she first worked as a saleswoman and purchasing assistant, before later starting her own business, together with her husband.
She commenced her political career in Neubau, Vienna's 7th district, where she joined the district council in 1987 and later became FPÖ district party chairwoman. In 1996, Monika Mühlwerth became a member of the Federal Council for the FPÖ Vienna, and in 2001, she returned to Vienna municipal politics to take up the post of Vice-President of the Vienna School Board.
In 2006, Mühlwerth re-entered the Federal Council and remained a member until the end of 2020. In 2009, she was also elected chairperson of the Freedom Party group in the Federal Council, a position she retained until she departed from the Federal Council.
In addition to holding public office, Mühlwerth also actively involved herself in Freedom Party family and women's policy. For example, from 2006 to 2011 she was the federal chairwoman of the initiative Freedom Party Women, or iFF.
Main political positions
| | |
| --- | --- |
| 1987–1999 | District Councillor, Neubau, Vienna |
| 1996–2001 | Member of Federal Council |
| 2001–2006 | Vice-President of Vienna School Board |
| 2006–2020 | Member of Federal Council |
| 2006–2011 | Federal Party Chairwoman, initiative Freedom Party Women (iFF) |
| 2009–2020 | Chairwoman of the FPÖ Federal Council Parliamentary Group |