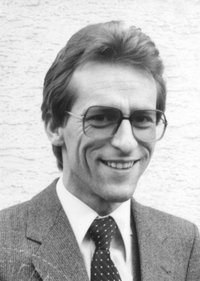 Walter Grabher-Meyer (1943 – )
Member of the National Council (1979-1986)
FPÖ General Secretary (1982-1986)
Walter Grabher-Meyer was a Freedom Party member of the National Council and FPÖ general secretary.
Short biography
Walter Grabher-Meyer was born in Lustenau, Vorarlberg, on 2 February 1943. He completed an apprenticeship as a printer and later founded the embroidery business "Walter Grabher-Meyer" in Lustenau.
Grabher-Meyer was politically active at municipal level in Lustenau, where he was a municipal councillor for almost 10 years. He also served as a councillor in the Vorarlberg Chamber for Workers and Employees.
In 1975 he entered the National Council as an FPÖ MP. In 1982 he became FPÖ general secretary, a position he retained until 1986, when the Steger Era came to an end.
| | |
| --- | --- |
| 1969–1972 | Councillor, Vorarlberg Chamber for Workers and Employees |
| 1970–1979 | Municipal Councillor, Lustenau |
| 1979–1986 | Member of the National Council |
| 1982–1986 | FPÖ General Secretary |
| 1983–1986 | Deputy Chairman of the FPÖ Parliamentary Party in the National Council |