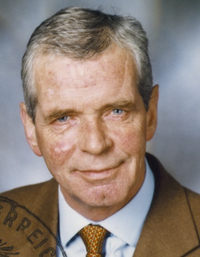 Gerd Klamt (*1942)
Member of the Federal Council (2000-2004)
President of the Federal Council (2001)
Gerd Klamt was a city councillor in Villach, a member of the Federal Council and also its first Freedom Party president.
Short biography
Gerd Klamt was born on 2 November 1942 in Villach. After completing compulsory education, he went to a college for mechanical engineering in Klagenfurt and then took his high school leaving exams and the exam for his engineering qualification in Vienna in 1964. After working as a claims agent for an insurance company and then as an operations manager at a road haulage company, he took up a position at Infineon Technologies Villach AG in 1983 and remained with the company until he retired.
In 1991 Gerd Klamt became a member of the city council in Villach where he was responsible for environmental issues. In 2000 he entered the Federal Council as a representative of Carinthia on an FPÖ ticket and in 2001 became the first FPÖ Federal Council president.
In 2004 Gerd Klamt left the Federal Council, but remained active in his district group in Villach and in particular continued to take a stand in support of the FPÖ when Jörg Haider broke away from the party.
Essential political functions
1991-1997 City Councilor of the City of Villach

2000-2004 Member of the Federal Council

2001 President of the Federal Council