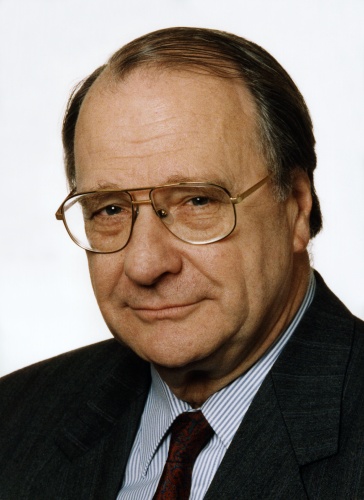 Harald Ofner (1932 – )
Federal Minister for Justice 1983-1987
Provincial Party Chairman, FPÖ Lower Austria 1976-1989
Member of the National Council 1979-1983, 1986-2002


Harald Ofner is a lawyer and was Austria's Federal Minister for Justice from 1983 to 1987. He was a member of the National Council from 1979 until becoming a minister, as well as from when he left that cabinet post until 2002. His party activities included serving as provincial party chairman of the FPÖ Lower Austria. He also served as deputy mayor of Mödling.
Short biography
Harald Ofner was born in Vienna on 25 October 1932. He trained as a high voltage fitter. In 1953, he belatedly obtained his high school certificate, so that he could study at Vienna University. He graduated in 1958 with a doctorate in law and undertook his required legal internships in Vienna and Lower Austria. Harald Ofner was registered as a lawyer in 1965.
In the mid-1970s he began his political career as deputy chairman of the Lower Austrian FPÖ and deputy mayor of Mödling. In 1976 he advanced to chairman of the Lower Austrian FPÖ and remained in that position until 1989.
He had in 1979 already been elected to the National Council and to the municipal council of Mödling. During the early 1980s, he served for three years as deputy chairman of the FPÖ parliamentary party in the National Council. He resigned his National Council seat upon the formation of the SPÖ-FPÖ coalition, so that he could take on the role of Federal Minister for Justice, which he held during both the Sinowatz and Vranitzky I governments. It was during his time as Federal Minister for Justice that he made his famous remark that "The soup is too thin," in connection with the evidence in the Lucona affair. After the SPÖ-FPÖ government was terminated, he resumed his National Council seat, which he continued to hold until 2002. Harald Ofner also served as FPÖ deputy federal party chairman.
In addition, Harald Ofner was chairman of the parliamentary Complaints Commission in Military Affairs and in 2002 received the Austrian Decoration for Military Merit, which is the country's highest military award. Ofner holds the Grand Decoration in Gold with Sash for Services to the Republic of Austria (1986).
For years, Ofner served as president of the "League of Friends of South Tyrol" and as a board member of the "Bergisel Bund".
In 2002 he resigned from most political offices and returned to working full-time as a lawyer.
Main political positions
1974–1976

Deputy Provincial Party Chairman, FPÖ Lower Austria

1975–1979

1976–1989

Provincial Party Chairman, FPÖ Lower Austria

1979–1983 and
since 1985

1979–1983 and
1986–2002

1980–1983

Deputy Chairman of the FPÖ Parliamentary Party in the National Council

1980–1983

Federal Minister for Justice