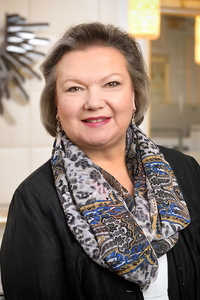 Anneliese Kitzmüller (* 1959)
Member of the National Council (2008-2019)
Third President of the National Council (2017-2019)
Anneliese Kitzmüller is an FPÖ politician. From 2008 to 2019 she was a Member of the National Council and from 2017 to 2019 served as its Third President.
Short biography
Anneliese Kitzmüller was born on 3 July 1959 in Linz. After completing primary school, she attended high school (Realgymnasium) in Linz and then went on to study law. Between 1982 and 1987 she worked for a bank and from 1999 until 2005 was the managing director of the company Futura chemische und landwirtschaftliche Vertriebs GesmbH. After the birth of her two children, Kitzmüller was a stay-at-home parent.
Kitzmüller began her political career in her hometown of Kirchschlag near Linz, being elected to the town council on an FPÖ ticket in 1991. In 1994 she became Deputy District Party Chairwoman. In 1998 she became Provincial Party Chairwoman, Upper Austria, and in 1999 Deputy Federal Chairwoman of the Freedom Party Family Association. In 2004 Kitzmüller took on the role of FPÖ party leader of the Urfahr-Umgebung district. In 2006 she became Deputy Chairperson of the FPÖ Upper Austria.
Kitzmüller stood for the FPÖ at the National Council election in 2008 and won a direct mandate as the lead candidate in the regional constituency Mühlviertel. The focus of her work in the National Council was family policy and issues concerning ethnic Germans who had been expelled from their countries of origin in the aftermath of the Second World War.
After the National Council election in 2017, Kitzmüller was elected as Third President of the National Council. When the legislative period ended prematurely, Kitzmüller did not stand again and retired from the National Council.
Essential political functions
2004 District Chairwoman Urfahr-Umgebung

2006 Deputy President of the Regional Party FPÖ Upper Austria

2008-2019 Member of the National Council

2017-2019 Third President of the Austrian National Council