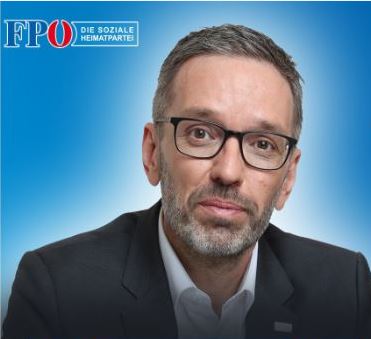 Herbert Kickl
FPÖ Federal Party Chairman since 2021
Chairman of the FPÖ Parliamentary Party in the National Council since 2019
Federal Minister for the Interior from 2017 to 2019
FPÖ General Secretary from 2005 to 2017


Herbert Kickl has been FPÖ federal party chairman since July 2021 and has since 2019 served as chairman of the FPÖ parliamentary party in the National Council. As a long-serving FPÖ general secretary, he previously made decisive contributions to shaping Freedom Party politics, among other things as an election campaign manager at federal and provincial level. From 2017 to 2019, within the framework of a federal coalition government between the ÖVP and FPÖ, Herbert Kickl was the first Freedom Party Federal Interior Minister in the history of the Second Republic.
Short biography
Herbert Kickl was born in Villach, Carinthia, on 19 October 1968, and grew up in a workers' housing estate in Radenthein, Carinthia. His parents were factory workers. After graduating from high school in Spittal an der Drau, Herbert Kickl moved to Vienna and started studying history, philosophy and political science. He undertook his military service from 1987 to 1988 in the alpine light infantry of the Austrian Armed Forces.
In addition to his deep interest in philosophy Herbert Kickl is also an enthusiastic sportsman. He practiced judo and played football in his youth, and continues to participate in triathlon and in climbing competitions.
Kickl began his political career in the Freedom Party Academy. He worked his way up there, among other things as a speechwriter for Jörg Haider, and from 2002 to 2006 held the position of managing director. During this time, he was, among other things, jointly responsible for the 2004 Carinthian provincial election campaign, which led to Jörg Haider winning in excess of 40 percent of the vote and becoming Governor. Kickl remained connected to the Freedom Party Academy even after his move to federal politics, and was in July 2016 elected president of the Freedom Party Education Institute, which had been reconstituted at the end of 2006, succeeding Hilmar Kabas.
At the Freedom Party's 27th regular federal party conference in April 2005, Herbert Kickl was elected as the new FPÖ general secretary. He was thus primarily responsible for the party's strategy and he coordinated all FPÖ election campaigns at the federal level, starting with the 2006 National Council election campaign. This was followed by equally-successful election campaigns in 2008, 2013 and 2017. He was also responsible, for example, for the 2010 and 2015 campaigns for the elections to the Vienna Provincial Parliament and Municipal Council. He made his mark on FPÖ election campaigning above all with his rhymed slogans. Two of the best known – and difficult-to-translate - examples are "Daham statt Islam" (At Home, not Islam) and "Pummerin statt Muezzin" (Pummerin, not muezzin – with Pummerin being the famous bell of Vienna's St. Stephen's Cathedral).
Herbert Kickl first became a member of the National Council following the National Council elections of 1 October 2006 and remained an MP without interruption until 2017. From 2006 to 2017, he also served as deputy chairman of the FPÖ's National Council parliamentary party. As a member of the FPÖ's negotiating team, Kickl played a leading role in the 2017 government negotiations between the ÖVP and the FPÖ. He held ministerial office during the ÖVP-FPÖ coalition government, having in December 2017 been sworn in as Austria's Federal Minister for the Interior. This made him the Freedom Party's first Federal Minister for the Interior in the history of the Second Republic.
As Federal Minister for the Interior, Herbert Kickl consistently implemented the clear security, migration and immigration policies which the FPÖ had been demanding for years. This included, for example, a clear distinction between asylum and immigration; unambiguous statutory guidelines for, and consistent compliance with, Austria's immigration law system; an increase in the quality and quantity of police equipment and the creation of a new border protection unit. During Herbert Kickl's term in office, it proved possible to reduce asylum applications and to increase the number of legally-authorised removals of immigrants from the country.
The sudden dismissal of Herbert Kickl as Minister for the Interior came shortly after the "Ibiza Affair" became public knowledge. Despite the resignation of Heinz-Christian Strache as Vice-Chancellor and FPÖ federal party chairman, ÖVP Chancellor Sebastian Kurz was not prepared to continue the government with the Freedom Party and announced that there was soon to be a new election. Moreover, on 21 May 2019, Kurz asked Austrian Federal President Alexander Van der Bellen to dismiss Federal Interior Minister Herbert Kickl. In response, the FPÖ members of the government all resigned en bloc in protest.
Following the premature termination of the ÖVP-FPÖ government, Herbert Kickl returned to the Austrian Parliament as executive chairman of the FPÖ's parliamentary group. At National Council elections that had been brought forward to the autumn of 2019, the FPÖ ran with a "dual leadership" which consisted of the FPÖ's designated federal party chairman, Norbert Hofer, and Herbert Kickl. Norbert Hofer ran as the FPÖ's lead candidate, while Herbert Kickl took second place on the party's national candidate list. In addition, Kickl was the FPÖ's lead candidate in Lower Austria. Despite being second on the FPÖ's national candidate list, Kickl received more than 75,000 preferential votes at the National Council election of 29 September 2019. This corresponded to approximately 9.8 per cent of FPÖ voters at that election.
On 22 October 2019, Herbert Kickl was unanimously elected chairman of the FPÖ's parliamentary party in the National Council. At the commencement on 23 October 2019 of the new legislative period, he was once again sworn in as a member of the National Council. Herbert Kickl had served as deputy federal party chairman since the FPÖ's 33rd regular federal party conference, held in Graz on 14 September 2019. At the special party conference held on 19 June 2021, he was elected FPÖ federal party chairman.
Main political positions
| | |
| --- | --- |
| 2002–2006 | Managing Director of the Freedom Party Academy |
| 2006–2017 | Deputy Chairman of the FPÖ Parliamentary Party in the National Council |
| 2006–2017 | Member of the National Council |
| 2005–2017 | FPÖ General Secretary |
| Since 2016 | President of the Political Academy of the Freedom Party of Austria |
| 2017–2019 | Federal Minister for the Interior |
| 2019–2021 | Deputy FPÖ Federal Party Chairman |
| Since 2019 | Chairman of the FPÖ Parliamentary Party in the National Council |
| Since 2019 | Member of the National Council |
| Since 2021 | FPÖ Federal Party Chairman |