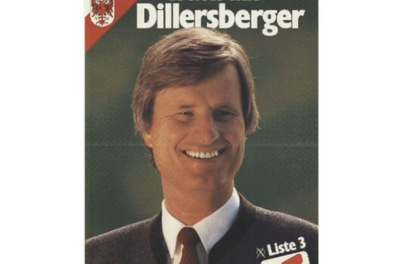 Siegfried Dillersberger (1942 – )
Member of the National Council from 1986 to 1990
Third President of the National Council 1990
Provincial Party Chairman of the FPÖ Tyrol from 1988 to 1989
Mayor of Kufstein in Tyrol from 1974 to 1987
For many years, Siegfried Dillersberger was an active Freedom Party politician both in the province of Tyrol and at the national level. He was among other things a Member of the National Council, Third National Council President, as well as a long-serving provincial parliamentarian. In his native Tyrol, Dillersberger was considered a committed municipal politician. This is illustrated in his long service as mayor of his home town of Kufstein. In 1997, this Tyrolean lawyer – who was considered an outspoken representative of the FPÖ's liberal wing – withdrew from politics.
Short biography
Siegfried Dillersberger was born in Kufstein, Tyrol, on 21 December 1942. During the Second World War, his father was mayor of Kufstein. Dillersberger attended secondary school (Realgymnasium) in Kufstein from 1952 until 1960. He then studied law at the University of Innsbruck from 1961 until 1965, completing his studies in 1965 with a doctorate. Immediately thereafter, he undertook his military service in the Austrian Armed Forces. Having completed his education, Dillersberger ran his own legal practice from 1973 until 2008.
Siegfried Dillersberger's initial political activity took place within his home municipality. From 1974 until 1992, he was a member of the municipal council of Kufstein and from 1974 until 1987 served as mayor of Kufstein. In the early 1990s, he also briefly held the role of FPÖ municipal party chairman of Kufstein. At the end of the 1970s, Dillersberger entered provincial politics and from 1979 until 1986, he served as a member of the provincial parliament of Tyrol.
From 1979, Dillersberger was also a member of the FPÖ's full federal party executive. This marked the beginning of his involvement in national politics. From 1986 until 1990, he switched from provincial politics to become a member of Austria's National Council. During this period, Dillersberger was the FPÖ spokesman on South Tyrol and thus spoke out on South Tyrolean affairs; he was also FPÖ spokesperson for integration and European affairs.
From 1988 until 1989, Dillersberger took over the position of chairman of the FPÖ Tyrol and in March 1990, Siegfried Dillersberger was elected Third President of the National Council of the Austrian Parliament. At that same time, in 1990, Dillersberger also became deputy FPÖ federal party chairman. From 1993 until 1994 he was also a Member of the Federal Council. Dillersberger, a native of Kufstein, rounded off his political career by serving from 1994 until 1997 as a member of the Tyrolean provincial parliament and announced in December 1997 that he was withdrawing from politics.
In recognition of his political contributions, Siegfried Dillersberger was in 1994 awarded the Grand Decoration in Silver for Services to the Republic of Austria. He also holds the Golden Medal of Merit of the Austrian Red Cross, the Cross of Merit of the Province of Tyrol, the Ring of Honour of the City of Kufstein and the Decoration of Honour of the Province of Tyrol.
Main political positions
1973–1988,
1990–1997

1974–1992

Municipal Councillor, Kufstein

1974–1987

Mayor of Kufstein

1979–1986,
1994–1997

Member of Provincial Parliament, Tyrol

1986–1990

Member of the National Council

1988–1989

Provincial Party Chairman, FPÖ Tyrol

1990

Deputy FPÖ Federal Party Chairman

3.–11.1990

1986–1990,
1993–1994

Member of the FPÖ Federal Party Executive

1993–1994

Member of the Federal Council
Publications by Siegfried Dillersberger (selection)
Europaregion Tirol, in: Freie Argumente 2/93
Europäische Union – Wohin geht Südtirol? in: Freie Argumente 1/95
Weblinks
Siegfried Dillersberger on the web pages of the Austrian Parliament: