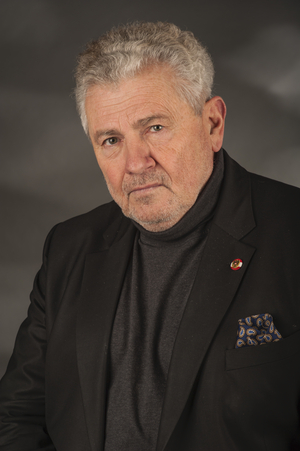 Andreas Mölzer (1952 – )
Member of the Federal Council (1991-1994)
Member of the European Parliament; Leader of the FPÖ Delegation in the European Parliament (1991-1994)
Andreas Mölzer is a Freedom Party publicist and politician. He has among other things been chairman of the Freedom Party Education Institution and served for 10 years as a member of the European Parliament. He made an essential contribution to the creation of a right-wing group of like-minded patriotic forces and parties in the European Parliament.
Short biography
Andreas Mölzer was born in Leoben, Styria, on 2 December 1952. After graduating from high school in 1971 in Knittelfeld, he studied history and law in Graz, where he also became a member of the Graz student fraternity, Corps Vandalia.
From 1978 to 1980, he worked as a teaching assistant at the University of Graz. He moved to Carinthia in 1980. From 1980 to 1990, he edited the magazine "Die Aula", and from 1984 to 1990, he was also editor-in-chief of the "Kärntner Nachrichten", the party organ of the Carinthian FPÖ. During this phase of his FPÖ career, Mölzer was a supporter of Jörg Haider. He served from 1990 as policy officer (Grundsatzreferent) for the federal FPÖ in Vienna and from 1990 to 1994 took over the management of the Freedom Party Education Institution (Freiheitliches Buldingswerk). From 1991 to 1994, he represented the Carinthian FPÖ in the Federal Council.
After having broken with Jörg Haider in 1994, Mölzer again devoted himself exclusively to his journalistic work, among other things as a permanent columnist for the "Kronenzeitung" and the "Presse". In 1997 he founded the weekly newspaper "Zur Zeit", of which he is still the publisher today. After temporarily reconciling with Jörg Haider, he served as the Province of Carinthia's cultural officer from 1999 to 2001.
From 2000 onwards, Mölzer was strongly committed to networking patriotic forces across Europe. He was listed third on the FPÖ's candidate list for the 2004 European Parliament elections, but ran a preferential vote campaign which ultimately resulted in him taking the only European Parliament seat which the Freedom Party won. Andreas Mölzer stood as the FPÖ's lead candidate at the 2009 European Parliament elections, where it proved possible for the party to double both its vote and seats. In 2014, he had to resign his lead candidacy because of his statement that "The EU is a negro conglomerate" and left the European Parliament.
Main political positions
1983–1990

Editor-in-chief of Kärntner Nachrichten (Carinthian News)

1990–1994

Chairman of Freedom Party Education Institution

1991–1994

Member of the Federal Council

1999–2001

Cultural Officer of the Province of Carinthia

2004–2014

Member of the European Parliament;

Leader of the FPÖ Delegation in the European Parliament