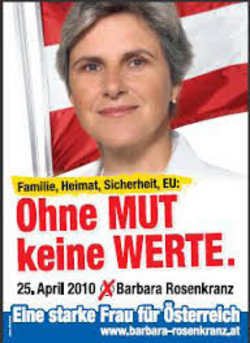 Federal presidential election 2010
At the federal presidential election of 25 April 2010, Barbara Rosenkranz stood as the FPÖ's candidate and won 15.24 per cent of the vote.
As in 2004, Heinz Fischer (SPÖ) was re-elected Federal President at the first ballot.
Brief description of the election campaign and its outcome
Since the ÖVP had decided not to nominate a candidate to oppose serving Federal President Heinz Fischer, his challenger was the Freedom Party's Barbara Rosenkranz. Her campaign slogan was "Ohne Mut keine Werte" ("Without courage, no values"). The mother of ten based her campaign on the topics of family, homeland, security and the European Union. Barbara Rosenkranz had in 2005 made a name for herself in EU matters by being the only Member of Parliament who had voted against the EU constitution, which subsequently fell through, but was in 2010 still a central theme of Austrian politics.
The list of prominent individuals who collectively declared their support for Barbara Rosenkranz as the Freedom Party candidate included Kriemhild Trattnig, Holger Bauer, the FPÖ's former Secretary of State for Finance, Harald Ofner, the former FPÖ Minister for Justice and the former FPÖ Federal Party Chairman, Alexander Götz.
Rosenkranz obtained 15.24 per cent, which amounted to about 500,000 votes.
Heinz Fischer was able to garner around 80 per cent of the vote on a very low turnout and was re-elected.
25.04.2010

Parties

Election of the Austrian Federal President

Heinz Fischer

Independent (SPÖ)

2,508,373 Votes

79.33 per cent

Barbara Rosenkranz

FPÖ

481,923 Votes

15.24 per cent

Rudolf Gehring

CPÖ

481,923 Votes

5.43 per cent