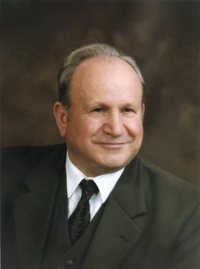 Alois Huber (1929 – 2007)
Assembly Member, Carinthian Chamber of Agriculture (1971-1988)
Member of the National Council (1984-1994)
Alois Huber was a Freedom Party agricultural politician and a member of the National Council from 1984 to 1994.
Short biography
Alois Huber was born in Carinthia on 10 July 1929. His father Reinhold Huber was chairman of the FPÖ Carinthia from 1955 until 1965 and his sister, Kriemhild Trattnig, was among other things the FPÖ's Second President of the Carinthian provincial parliament.
Alois Huber completed his secondary schooling at an agricultural college and in 1957 acquired a farm in the Carinthian municipality of Himmelberg. That is where he also commenced his political activities, initially (from 1958) as municipal councillor and FPÖ party chairman of Himmelberg. From 1971, he served as an assembly member in the Carinthian Chamber of Agriculture and from 1981 joined the executive of the Carinthian Chamber of Agriculture and Forestry. From 1976, he held the office of deputy chairman of the Agricultural Support Advisory Board at the Office of the Carinthian Provincial Government.
In 1984, he became an FPÖ member of the National Council, a position he was to retain until 1994. Hofer was an ambitious agricultural politician who gained prominence through the development of an agricultural policy dubbed the "Huber Plan". After leaving the National Council, he largely gave up his political activism. In 2005, when Jörg Haider broke away from the FPÖ by forming the BZÖ, Huber played a significant role in saving the Carinthian FPÖ, together with his sister Kriemhild Trattnig and Andreas Mölzer. On 21 August 2007, he suffered a fatal accident whilst engaged in forestry work on his farm.
Main political positions
| | |
| --- | --- |
| 1958-1986 | Municipal Councillor, Himmelberg |
| 1971-1988 | Assembly Member, Carinthian Chamber of Agriculture |
| 1984–1994 | Member of the National Council |