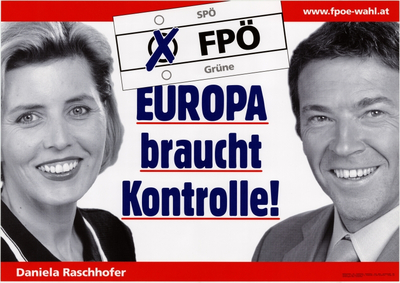 European Parliament election 1999
At the European Parliament election of 13 June 1999, the FPÖ's lead candidate was Daniela Raschhofer. The Freedom Party achieved 23.40 percent of the vote (-4.13 percentage points) and five seats (-1).
The election victor was the SPÖ, but modest gains were also achieved by the ÖVP and the Greens. The Liberal Forum no longer made it into the European Parliament.
Brief description of the election campaign
At Austria's first regular European Parliament election after the country's accession to the European Union, the FPÖ nominated Daniela Raschhofer as its lead candidate. The central slogan of the Freedom Party was "Heimvorteil für Österreich" ("Home advantage for Austria").
| | | | | | |
| --- | --- | --- | --- | --- | --- |
| Parties | Votes | Vote share 1999 | ± | Seats 1999 | ± |
| SPÖ | 888,338 | 31.71% | +2.56% | 7 | +1 |
| ÖVP | 859,175 | 30.67% | +1.02% | 7 | ±0 |
| FPÖ | 655,519 | 23.40% | -4.13% | 5 | -1 |
| GRÜNE | 260,273 | 9.29% | +2.48% | 2 | +1 |
| LIF | 74,467 | 2.66% | -1.60% | 0 | -1 |
| CSA | 43,084 | 1.54% | n.a. | 0 | n.a. |
| KPÖ | 20,497 | 0.73% | +0.26% | 0 | ±0 |
Election result and impact
The Austrian representatives dispatched to the European Parliament by the Freedom Party were Daniela Raschhofer, Peter Sichrovsky, Klaus Lukas, Gerhard Hager and Hans Kronberger. Although the Freedom Party now had five seats in the European Parliament, their MEPs continued to not be affiliated to any EP parliamentary group
Web links, sources