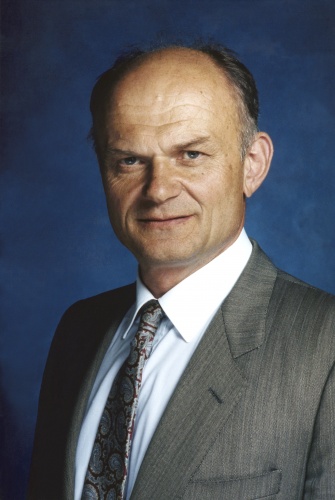 Thomas Prinzhorn (1943 – )
Third President of the National Council (2002-2006)
Second President of the National Council (1999 – 20 December 2002)
President of the Vienna chapter of the Federation of Austrian Industries (2002-2006)
Thomas Prinzhorn is an industrialist who was the Freedom Party's lead candidate at the 1999 National Council election and for many years served as a president of the National Council.
Short biography
Thomas Prinzhorn was born in Vienna on 5 March 1943. He is an entrepreneur and industrialist in the paper and packaging sector. After obtaining his high school certificate, he studied mechanical engineering at the Vienna University of Technology. He graduated from there in 1967 as an engineer (Dipl.-Ing) and later studied economics at Harvard University in the USA. He first worked in the paper and packaging industry in the USA and then as managing director in the companies W. Hamburger AG and Mosburger AG, which were later merged into the "Prinzhorn Group".
Thomas Prinzhorn found his way into politics at the end of the 1970s via the Federation of Austrian Industries (IV), where he assumed various functions, among others as a member of the board of the Federation of Austrian Industrialists and as president of the Vienna branch of the Federation of Industrialists. Prinzhorn held several supervisory board posts in national and international companies.
Despite not being a party member, Prinzhorn entered the National Council in 1996 via the FPÖ's candidate list. In 1998, he resigned his seat due to disagreements with Jörg Haider, but following discussions with Haider, he became a member of the FPÖ in 1999 and was selected to be the FPÖ's lead candidate alongside Jörg Haider for the autumn 1999 National Council election. The FPÖ achieved 26.91 per cent of the vote, which is the best election result in the party's history.
Following its clear election victory, the Freedom Party entered into a coalition with the ÖVP amid international protest. It was intended that Thomas Prinzhorn, the Freedom Party's spokesman on the economy, would assume the post of finance minister, but he was rejected as minister by the then Federal President, Thomas Klestil, because of allegedly xenophobic statements. He first became Second President of the National Council, and subsequently - after the FPÖ had lost votes at the 2002 election - Third President of the National Council.
Prinzhorn remained Third President of the National Council after Haider broke away from the FPÖ to form the BZÖ in the spring of 2005. He left the National Council in 2006.
Main political positions
| | |
| --- | --- |
| 1975–1988 | Chairman, Committee for Education and Social Policies, Federation of Austrian Industries |
| Since 1978 | Member, Board of Directors, Federation of Austrian Industries |
| 1988–1993 | Chairman, Committee for Economic Policy, Federation of Austrian Industries |
| 1991–1993 | President, Vienna chapter of the Federation of Austrian Industries |
| 1996–1998 | Member of the National Council |
| 1999 | |
| 1999–2006 | Member of the National Council |
| 1999–2002 | |
| 2002–2006 | Third President of the National Council |