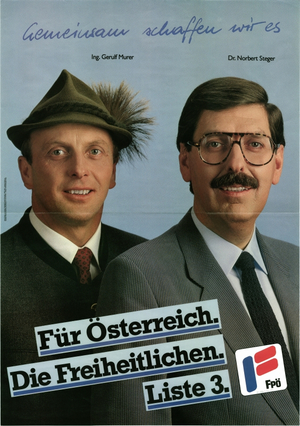 National Council election 1983
At the National Council election of 24 April 1983, Norbert Steger stood as the Freedom Party's lead candidate. The FPÖ gained 4.98 per cent of the vote (-1.08 percentage points) and obtained 12 seats (+1).
With Bruno Kriesky at its head, the SPÖ was again returned as the strongest party, yet it lost the absolute majority it had enjoyed for 12 years. The ÖVP was able to edge up slightly.
Brief description of the election campaign
The Bruno Kriesky era was nearing its end. He intended to pass the baton to Androsch, but the latter's private business interests presented an insurmountable conflict of interest and the SPÖ then came under pressure because of the "AKH scandal" (corruption related to the building of the new Vienna General Hospital). It thus gradually became apparent that Kreisky, who was also in poor health, would step down after the 1983 election.
In the Freedom Party, Norbert Steger took over the office of Federal Party Chairman in 1980. He was supposed to be a signal of the party's rejuvenation. The FPÖ tried to position itself as an economic liberal party. Its campaign slogans were " Für Österreich " ("For Austria" and "Gemeinsam schaffen wir es" (Together we can do it").
Election result
The following parties and electoral lists, among others, stood for election at the National Council election of 24 April 1983:
Sozialistische Partei Österreichs (SPÖ)
Österreichische Volkspartei (ÖVP)
Freiheitliche Partei Österreichs (FPÖ)
Vereinte Grüne Österreichs – Liste Tollmann (VGÖ)
Alternative Liste Österreichs (ALÖ)
Kommunistische Partei Österreichs (KPÖ)
Österreich-Partei (ÖP)
Ausländer-Halt-Bewegung (AUS)
| | | | | | |
| --- | --- | --- | --- | --- | --- |
| Parties | Votes | Vote share 1983 | ± | Seats 1983 | ± |
| SPÖ | 2,312,529 | 47.6% | -3.4% | 90 | -5 |
| ÖVP | 2,097,808 | 43.2% | +1.3% | 81 | +4 |
| FPÖ | 241,789 | 4.98% | -1.08% | 12 | +1 |
The SPÖ lost its absolute majority, the ÖVP made gains and the Freedom Party lost votes. At 4.98 per cent, the FPÖ barely made it back into Parliament. The Green movement, which contested the election for the first time, was in 1983 not yet able to enter the National Council, not least since a more bourgeois-oriented list and a left-oriented list were so to speak running against each other.
Government formation
The SPÖ lost its absolute majority and was forced to enter a coalition government. After Fred Sinowatz had taken over the party, the SPÖ formed a government with the Freedom Party and Norbert Steger became FPÖ Vice-Chancellor. The FPÖ had achieved its historically worst election result, which made its government participation controversial within the party and was later to lead to tensions.