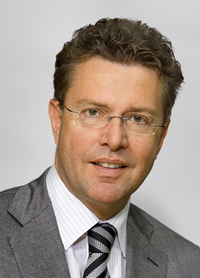 Herbert Scheibner (1963 - )
Federal Minister for Defence (2000–2003)
Chairman of the FPÖ Parliamentary Party in the National Council (1999-2000 and 2003-2006)
FPÖ General Secretary (1992-1995)
Herbert Scheibner was federal chairman of the Freedom Party Youth Ring (RFJ), FPÖ general secretary, managing director of the Freedom Party Academy and finally Federal Minister for Defence in the ÖVP-FPÖ 2000 to 2003 coalition government.
Short biography
Herbert Scheibner was born in Vienna on 23 April 1963. He attended primary school from 1969 to 1973, then a grammar school (1973 to 1982). He subsequently studied law at the University of Vienna and business administration at the Vienna University of Economics and Business. He was employed in the banking and insurance sector. In 1993 he became a non-commissioned officer in the militia of the Austrian Armed Forces.
He began his political career when he joined the party in 1987. He became a district councillor in Vienna's 15th district (Rudolfsheim-Fünfhaus) and became involved in the Freedom Party Youth Ring (RFJ), where he served as federal chairman from 1989 to 1993.
Scheibner became a member of the National Council in 1990 and was the Freedom Party's general secretary from 1992 to 1995. In 1994 he also became managing director of the Freedom Party Academy, a position he retained until 1999.
Scheibner replaced Ewald Stadler as chairman of the FPÖ parliamentary party in the National Council in 1999 and held this post until he was sworn in as Defence Minister in the spring of 2000. Scheibner remained a federal minister throughout the first ÖVP-FPÖ coalition, i.e., until the beginning of 2003, when he returned to the National Council, where he again chaired the FPÖ parliamentary party.
In spring 2005 he moved with Jörg Haider to the BZÖ and chaired the latter's National Council group. Scheibner subsequently re-entered the National Council on a BZÖ ticket and remained an MP until 2013.
Professionally, Scheibner has been an entrepreneur since 2007. Since 2008, he has been vice-president of the non-partisan Foreign Policy and United Nations Association of Austria (Österreichischen Gesellschaft für Außenpolitik und die Vereinten Nationen).
Main political positions
| | |
| --- | --- |
| 1989–1993 | Federal Chairman, Freedom Party Youth Ring (Ring Freiheitlicher Jugend, or RFJ) |
| 1990–2000 | Member of the National Council |
| 1992–1995 | FPÖ General Secretary |
| 1994–1999 | Managing Director of the Freedom Party Academy (Freiheitliche Akademie) |
| 1999–2000 | Chairman of the FPÖ Parliamentary Party in the National Council |
| 2000–2003 | Federal Minister for Defence |
| 2003–2013 | Member of the National Council (FPÖ and BZÖ) |
| 2003–2006 | Chairman of the FPÖ Parliamentary Party in the National Council |
| Since 2008 | Vice-President of the non-partisan Foreign Policy and United Nations Association of Austria (Österreichischen Gesellschaft für Außenpolitik und die Vereinten Nationen) |