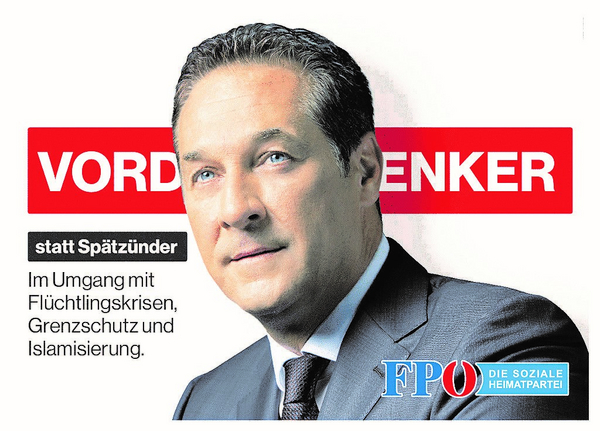 National Council election 2017
At the early National Council election of 15 October 2017, Heinz-Christian Strache again entered the race as the FPÖ's lead candidate. At this election, the Freedom Party was able to achieve 25.97 per cent of the vote, which amounted to an increase of 5.46 percentage points, as well as 51 seats (plus 11).
The election saw not only strong gains by the Freedom Party, but also the ÖVP, led by Sebastian Kurz, clearly take first place, while the SPÖ was able merely to maintain its vote share and only just retained second place, ahead of the FPÖ. The Greens failed to re-enter the National Council, but a new grouping did enter: the Liste Pilz.
Brief description of the election campaign
One consequence of the SPÖ-ÖVP coalition having visibly lost support among the population was that in 2016, SPÖ Federal Chancellor Werner Faymann resigned and handed over the chancellorship to Christian Kern, on whom many social democratic hopes were pinned. About a year later, Sebastian Kurz replaced his predecessor, Reinhold Mitterlehner, as ÖVP Chairman, exchanged his party's traditional black branding with turquoise and terminated the coalition with the SPÖ. This led to an early National Council election being held in autumn 2017.
The Freedom Party obviously again relied on the tried-and-tested public face of the party, Heinz-Christian Strache. The motto of the campaign was "fairness". Yet the thematic foundations remained the same as in previous election campaigns: the denunciation of stagnation under the red-black government; the topic of immigration, focusing in particular on criticism of the uncontrolled mass immigration in 2015, as well as social justice.
Both on posters and in TV spots, the Freedom Party maintained that "Österreicher verdienen Fairness – der rot-schwarze Speck muss weg" ("Austrians deserve fairness – red-black privilege must go"). In other posters, Strache was presented as an alternative to his fellow competitors, including to Sebastian Kurz, with the slogan "Vordenker statt Spätzünder" (Visionary, not late bloomer"). As in previous elections, Herbert Kickl, the successful General Secretary, was once again responsible for the conduct of the election campaign.
Election result
The following parties and electoral lists, among others, stood for election at the National Council election of 2017:
Sozialdemokratische Partei Österreichs (SPÖ)
Österreichische Volkspartei (ÖVP)
Freiheitliche Partei Österreichs (FPÖ)
Die Grünen – Die Grüne Alternative (GRÜNE)
NEOS – Das Neue Österreich und Liberales Forum (NEOS)
Kommunistische Partei Österreichs (KPÖ)
Freie Liste Österreich & FPS Liste Dr. Karl Schnell (FLÖ)
Liste Peter Pilz (PILZ)
Liste Roland Düringer – Meine Stimme GILT (GILT)
DIE WEISSEN – Das Recht geht vom Volk aus. Wir alle entscheiden in Österreich. Die Volksbewegung. (WEISSE)
| | | | | | |
| --- | --- | --- | --- | --- | --- |
| Parties | Votes | Vote share 2017 | ± | Seats 2017 | ± |
| ÖVP | 1,595,526 | 31.47% | +7.48% | 62 | +15 |
| SPÖ | 1,361,746 | 26.86% | +0.04% | 52 | ±0 |
| FPÖ | 1,316,442 | 25.97% | +5.46% | 51 | +11 |
| NEOS | 268,518 | 5.30% | +0.34% | 10 | +1 |
| Liste PILZ | 223,544 | 4.61% | n.a. | 8 | n.c |
Government formation
The ÖVP's drastic change of direction under Sebastian Kurz helped it achieve a significant electoral victory. Although the SPÖ was able to maintain its vote share, it fell back much more clearly into second place and ended up only marginally ahead of the successful Freedom Party, which attained 26 percent of the vote. This election result led to the two election victors, the ÖVP and FPÖ, conducting coalition negotiations which in December 2017 led to the formation of a black-blue, or turquoise-blue government.