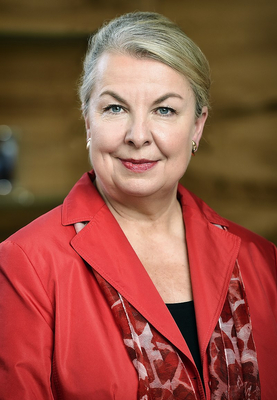 Mag. Beate Hartinger-Klein (*1959)
Member of the National Council (1999-2002)
Federal Minister for Work, Social Affairs, Health and Consumer Protection (2017-2019)
Beate Hartinger-Klein is a former FPÖ politician. From 1999 to 2002 she was a Member of the National Council, and from 2017 to 2019 Federal Minister for Work, Social Affairs, Health and Consumer Protection.
Short biography
Beate Hartinger-Klein was born on 9 September 1959 in Graz. From 1966 to 1970 she attended primary school and then a secondary school (Realgymnasium). In 1974 she transferred to a school of commerce. After graduating from high school in 1979, Hartinger studied social sciences and economics at the University of Graz, obtaining her degree in 1984.
From 1984 to 1985 Hartinger-Klein worked as a case manager in a tax consulting firm. In 1986 she took on a role as an organisational consultant at the Kastner&Öhler department store in Graz. She then moved to Steiermärkische Krankenanstalten GmbH, the Styrian hospital operator, where she was head of the internal audit department until 1990 when she was promoted to Head of Controlling. Hartinger also lectured at the Vienna University of Economics and Business, the University of Vienna and the University of Graz.
Hartinger was a member of the management of the Main Association of Austrian Social Security Institutions (Hauptverband der österreichischen Sozialversicherungsträger), the umbrella organisation that supervises and represents Austria's public insurers, from 2003 to 2009 as general manager and from 2005 as Deputy Director General. In 2009 she moved to Deloitte Austria, where she worked in the field of healthcare consulting. After leaving Deloitte she set up her own business.
Hartinger-Klein began her political career in Styria. From 1996 to 1999 she was a member of the Styrian Provincial Parliament before entering the National Council on a Freedom Party ticket in 1999, remaining there until 2002.
Due to her outstanding qualifications in healthcare management, Heinz-Christian Strache asked her to come back into politics and to become Federal Minister for Work, Social Affairs, Health and Consumer Protection in 2017.
Hartinger-Klein retired from politics when the ÖVP-FPÖ coalition ended in spring 2019.
Essential political functions
1996-1999 Member of the Styrian Parliament

1999-2002 Member of the National Council

2017-2019 Federal Minister of Labor, Social Affairs, Health and Consumer Protection