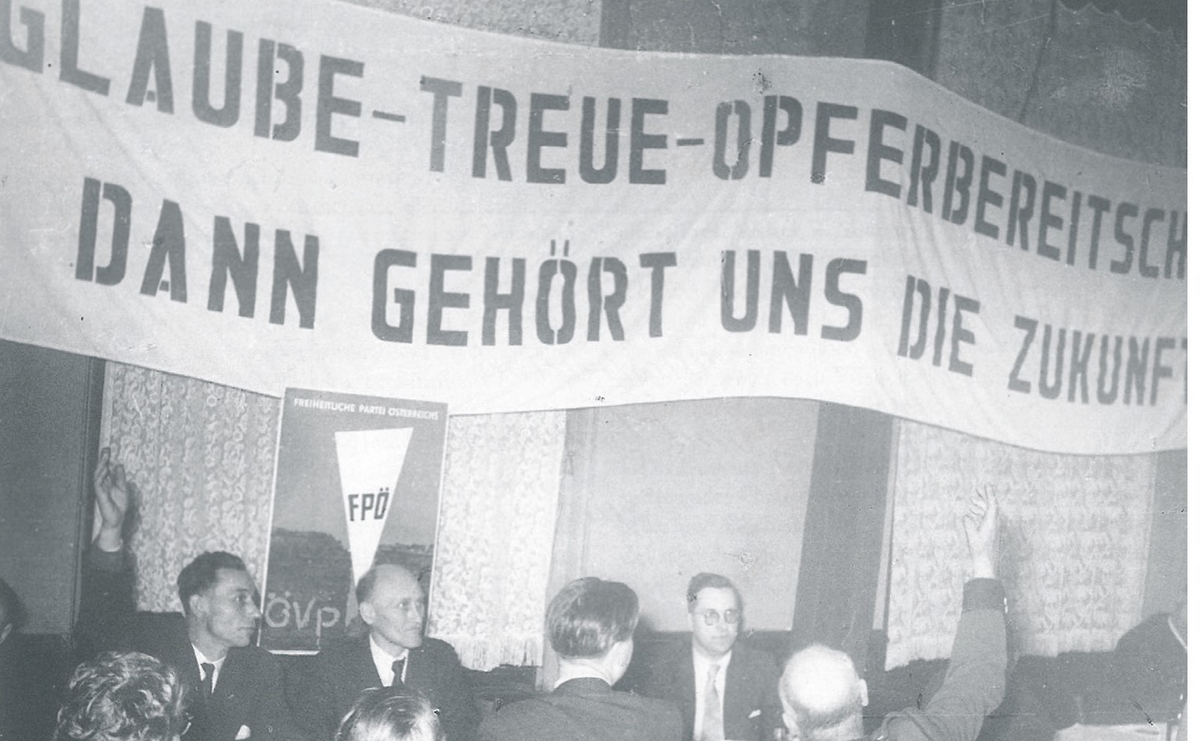 FOUNDATION OF THE PARTY IN 1956
On 17 October 1955, after the Verband der Unabhängigen had obviously failed, a federal proponents committee consisting of "Aktion zur politischen Erneuerung" (Action for Political Renewal), the VdU and the Freiheitspartei was formed, with the goal of preparing the founding of a party that was to be given a new name. As early as 27 October 1955, this committee agreed that the new party would be designated the "Freedom Party of Austria". This name points both to which of the constitutive groups was the most influential and to the foundation stone of the Third Camp's ideology. Freedom, above all the freedom of the individual, but also the freedom of the community, of one's own people, was and is at the centre of all policy statements and programmes of the national-liberal Camp. The federal proponents committee worked so intensively, that it proved possible to publish the new party's "Short Programme" (Kurzprogramm) as early as 3 November 1955.
On 7 April 1956, the FPÖ's first ordinary federal party conference, that is to say, its founding party conference, took place in the "Weißer Hahn" hotel in Vienna's Josefstadt district. In addition to Anton Reinthaller and Friedrich Peter, the founding fathers included Willfried Gredler, Tassilo Broesigke, Emil van Tongel, Gustav Zeillinger and Jörg Kandutsch – to name just a few of the people involved.
At the founding party conference, Reinthaller's election as Federal Party Chairman served as a demonstration of unity. Reinhold Huber, the leader of the Carinthian provincial branch of the Freiheitspartei, nominated Reinthaller for election, and Gustav Zeillinger, a member of the VdU, presided over the election process. Of the 124 votes cast, 117 went to Anton Reinthaller, three to Max Stendebach, and four were invalid.
In the election of the three federal party deputy chairmen, 116 votes were cast for Heinrich Zechmann, 92 went to Gredler, but only 58 to Stendebach. This proved the extent to which the old VdU had been outplayed by the new leadership team. In a second ballot, Stendebach was finally elected with 81 out of 121 votes cast.