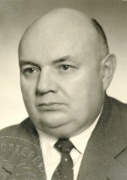 Emil van Tongel (1902 – 1981)
Co-founder of the FPÖ
Federal Press and Propaganda Spokesperson
Chairman of the FPÖ Parliamentary Party in the National Council
Emil van Tongel was a driving force in reshaping the Third Lager. He was managing director of the "Neue Front" and as the federal party's press officer, he exerted a decisive influence on the Freedom Party's publications. From 1964 to 1970, he served as chairman of the FPÖ parliamentary group in the National Council and continued until his death to practice his profession as a pharmacist.
Short biography
Emil van Tongel was born in Leitmeritz on the Elbe, on 7 October 1902. He studied law (Dr. iur. 1926) and pharmacy (Mag. pharm. 1928) in Vienna. In 1952 he took over his father's pharmacy.
In the early 1930s he was involved in the Greater German People's Party, then joined the NSDAP and was taken prisoner of war after World War II.
In 1955/56 he was one of the co-founders of the FPÖ and became the party's finance and press officer. He also became managing director of the "Neue Front" (forerunner of the "Neue Freie Zeitung").
He was a member of the National Council from 1959 to 1970 and from 1964 served as chairman of FPÖ parliamentary group there. In 1970, at the age of 68, he resigned from his political functions. Emil van Tongel died on 22 May 1981, and was given a grave of honour in the Protestant section of Vienna's Central Cemetery.
Main political positions
1929–1932 Provincial Party Chairman, Greater German People's Party, Vienna
1956 Co-founder of the FPÖ
1956–1970 Member of the Federal Party Executive; Press and Propaganda Officer
1956–1965 Federal Spokesperson for Finance
1959–1970 Member of the National Council
1964–1970 Chairman of the FPÖ Parliamentary Party in the National Council
Weblinks
Emil van Tongel on Wikipedia
Emil van Tongel on the web pages of the Austrian Parliament