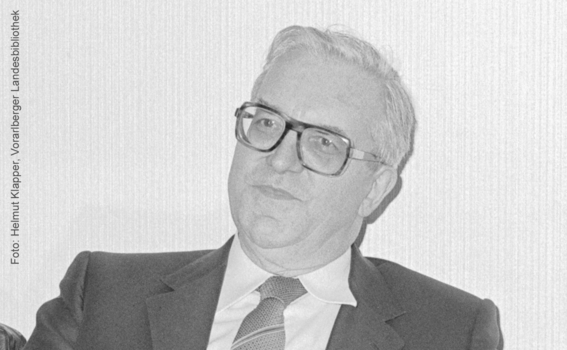 Tassilo Broesigke (1919 – 2003)
Provincial Party Chairman, FPÖ Vienna (1956-1977)
Member of the National Council (1963-1966 and 1970-1980)
President of the Austrian Court of Audit (1980-1992)
In 1956, when the Freedom Party was founded, Tassilo Broesigke became chairman of the FPÖ Vienna and a member of the National Council. In 1980, he became President of the Austrian Court of Audit
Short biography
Tassilo Broesigke studied philosophy and law in Munich, Heidelberg and Vienna, graduating with a doctorate in 1947. He was a lawyer and an expert in constitutional and administrative law, who ran his own law firm from 1951.
In 1956, he became chairman of the FPÖ Vienna and from 1959 to 1963 was a member of the Vienna Provincial Parliament and Municipal Council. From 1963 until 1966, as well as from 1970 until 1980, Broesigke was a member of the National Council. In 1980, he was elected President of the Austrian Court of Audit and remained in that post until 1992.
Tassilo Broesigke played a leading role in the development of the FPÖ's programmatic foundations, including the 1968 Ischler Programme and the 1973 Freedom Party Manifesto on Social Policy.
Broesigke was a holder of the Grand Decoration in Gold with Sash for Services to the Republic of Austria.
Weblinks
Tassilo Broesigke on the web pages of the Austrian Court of Audit (Rechnungshof):
Tassilo Broesigke on the web pages of the Austrian Parliament:


Tassilo Broesigke on the internet portal of the City of Vienna: