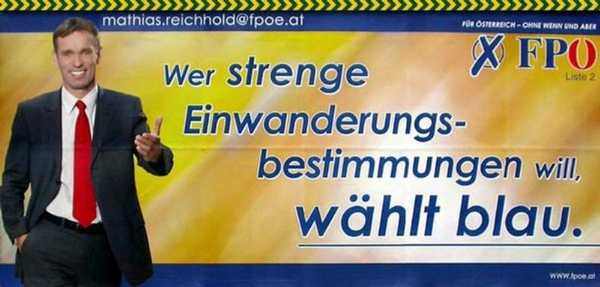 National Council election 2002
At the National Council election of 22 November 2002, Herbert Haupt stood as the FPÖ's lead candidate. At this election, the Freedom Party suffered painful losses, obtaining 10.01 per cent of the votes, a drop of 16.90 percentage points. That translated into 18 seats (-34).
The winner of the election was the ÖVP, whose share of the vote increased by about 15 percentage points. The SPÖ was also able to make gains, but remained clearly behind the ÖVP. The Greens also made modest gains.
Brief description of the election campaign
In response to internal quarrels within the Freedom Party, ÖVP Chancellor Wolfgang Schüssel terminated the coalition in the autumn of 2002 and announced early elections. As a result of internal turbulence (keyword Knittelfeld) the Freedom Party entered the campaign in a divided and leaderless state. When the lead candidate initially nominated by the FPÖ, namely Mathias Reichhold, had to give up this role as a result of health problems, the Carinthian Herbert Haupt stepped into the breach.
It was difficult to discern a clear campaign strategy. A central slogan was "Für Österreich – ohne Wenn und Aber" ("For Austria – no ifs and buts") and the topics of immigration and the European Union were addressed. The party's election resources had originally been tailored to Reichhold, which meant that even though he was no longer the lead candidate, some posters depicting Reichhold continued to be used. Another slogan that appeared on posters was "Jetzt erst recht" ("Now more than ever").
Election result
The following parties and electoral lists, among others, stood for election at the National Council election of 2002:
Sozialdemokratische Partei Österreichs (SPÖ)
Österreichische Volkspartei (ÖVP)
Freiheitliche Partei Österreichs (FPÖ)
Die Grünen – Die Grüne Alternative (GRÜNE)
Liberales Forum (LIF)
Kommunistische Partei Österreichs (KPÖ)
Christliche Wählergemeinschaft (CWG)
Sozialistische Linkspartei (SLP)
Die Demokraten
| | | | | | |
| --- | --- | --- | --- | --- | --- |
| Parties | Votes | Vote share 2002 | ± | Seats 2002 | ± |
| ÖVP | 2,076,833 | 42.30% | +15.39% | 79 | +27 |
| SPÖ | 1,792,499 | 36.51% | +3.36 | 69 | +4 |
| FPÖ | 491,328 | 10.01% | -16.9 | 18 | -34 |
| GRÜNE | 464,980 | 9.47% | +2.53% | 17 | +3 |
| | | | | | |