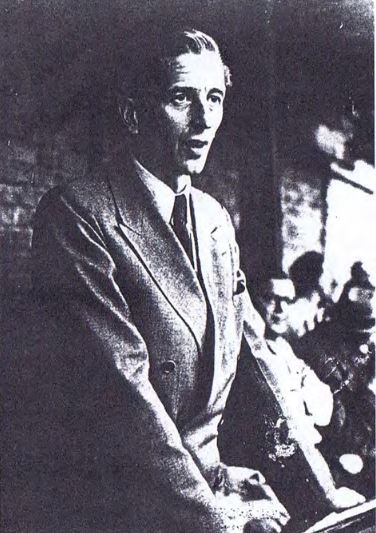 Founding member of the League of Independents (Verband der Unabhängigen, or VdU) 1949-1952
Member of the National Council 1949-1956 (VdU/WdU)
Herbert Alois Kraus was a co-founder of the League of Independents (Verband der Unabhängigen, or VdU) and its federal party chairman from 1949 to 1952. He was a member of the National Council, as well as chairman of the VdU parliamentary party in the National Council.
Herbert Alois Kraus was born in Zagreb on 18 November 1911, grew up in the province of Tyrol, where he attended primary school and then high school (Gymnasium) in Brixen (South Tyrol) and Feldkirch (Vorarlberg), before graduating from high school in Vienna in 1930. Thereafter he studied economics at what later became Vienna University of Economics and Business, from which he graduated in 1935 with a doctorate in commercial sciences. For the next two years he worked as a private tutor in Poland and in Czechoslovakia, before starting a business in Vienna in 1936.
In 1938 he became an economics journalist, first working for the "Neue Wiener Journal", then as a correspondent in Berlin for the "Südost-Echo" until 1941. During his service in the Wehrmacht, he was responsible for economic news, especially in Ukraine. In 1944, a court martial was initiated against him for overly-critical reporting, but it was dropped.
After the war, Kraus returned to Austria and tried to obtain from the Allies a licence to set up his own newspaper. He was unsuccessful, so ended up working as an editor for the Salzburger Nachrichten. Finally, in 1946, he founded the magazine "Berichte und Informationen" (Reports and Information) and became increasingly politically active. He was particularly critical of the Austrian National Socialist Law's employment ban for hundreds of thousands of former members of the NSDAP characterised as "Lesser Offenders" (Minderbelastete).
In 1949, together with the publicist Viktor Reimann, he finally founded the League of Independents (Verband der Unabhängigen, or VdU). It competed at the 1949 National Council election (as the Election Party of Independents, or "Wahlpartei der Unabhängigen") and was immediately able to win about 11 percent of the vote and 16 National Council seats. Kraus was VdU federal party chairman and subsequently chairman of the VdU group in the National Council.
When the FPÖ was founded in 1956, Kraus did not join it and withdrew from politics. He became a business manager in the private sector and was, among other things, co-founder of the company Donau-Finanz (1957).
In 1978, Kraus founded the "Liberaler Klub", which he intended would provide a platform for people from politics, business and culture to meet and to engage in bipartisan debate. In 1992, he founded the Commission for Greater Europe (Kommission für Großeuropa).
Herbert Alois Kraus died on 4 September 2008 in Vienna.
Main political positions
| | |
| --- | --- |
| 1949–1952 | Federal Party Chairman, League of Independents (Verband der Unabhängigen, or VdU) |
| 1949–1956 | Member of the National Council |
| 1949–1956 | Chairman of the VdU Parliamentary Party in the National Council |
| 1978–1993 | President of the "Liberaler Klub", Vienna. |
Publications by Herbert Kraus (selection)
Russland 1941. Volk, Kultur und Wirtschaft. Südost-Echo, Vienna 1942
Österreich zwischen 1945 und 1955, Freiheitliches Bildungswerk, Vienna 1979
"Untragbare Objektivität". Politische Erinnerungen 1917 bis 1987, Amalthea-Verlag, Vienna 1988
Großeuropa, Langenmüller-Verlag 1990
Europa mit Russland vereint. Eine Vision für das 21. Jahrhundert (zusammen mit Gergana Schulak), Molden-Verlag, Vienna 2003