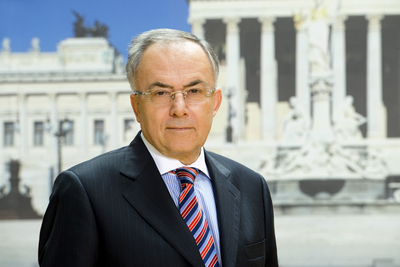 Dr. Peter Fichtenbauer (*1946)
Member of the National Council (2006-2013)
Ombudsman (2013-2019)
Peter Fichtenbauer is an Austrian politician, lawyer and high-ranking militia officer. He was an FPÖ Member of the National Council and from 2013 to 2019 an ombudsman.
Short biography
Peter Fichtenbauer wurde am 6. Juli 1946 in Alt-Dietmanns geboren, er besuchte zunächst die
Peter Fichtenbauer was born on 6 July 1946 in Alt-Dietmanns, Lower Austria, where he attended primary school followed by secondary school. In 1965 he graduated from high school (Realgymnasium) in Waidhofen an der Thaya. From 1965 to 1966 he completed a one-year period of voluntary military service before becoming an officer in the militia. Since 2005 he has held the rank of brigadier.
In 1966 he began studying law at the University of Vienna, graduating in 1970 with a doctorate (Dr. jur.). While a student Fichtenbauer joined the student fraternity Waldmark.
In 1976 Peter Fichtenbauer opened his own legal practice in Vienna. He has also held positions in numerous of associations, among them Viribus Unitis - Friends of the HGM, the museum of military history, of which he is president. From 1984 to 1987 he was the president of the Society for Austrian Military History and since 2000 has served as the Secretary of the Friends of the Austrian Army Air Service. In addition, he is a member of the board of the committee "50 Jahre Stalingrad" (in commemoration of the Battle of Stalingrad), the Austria Institute for European and Security Policy (AIES) and a board member of the Austrian Black Cross, the organisation that tends war graves (ÖSK).
After having joined the Ring of Freedom Party Students (RFS) while at university, Peter Fichtenbauer became a member of the FPÖ in 1975 and was initially involved in the Attersee Circle (Atterseekreis) around Norbert Steger. It was not until 2006 that he was nominated for higher political office by the FPÖ. He was first delegated to the Board of Trustees of the Austrian Broadcasting Corporation before becoming an FPÖ Member of the National Council. There, he was especially active as the FPÖ justice and defence spokesman.
In July 2013 he was finally nominated as an ombudsman by the FPÖ, a position he was to hold until 2019. In this capacity, he was responsible for police, immigration and asylum law, defence, agriculture, forestry and water management, nature and environmental protection, commerce and industrial installations, kindergartens, schools and universities. After one term of office Fichtenbauer was replaced by Walter Rosenkranz.
Essential political functions
2006 Member of the ORF Foundation Council
2006-2013 Member of the National Council
2006-2013 Deputy chairman of the Freedom Party parliamentary club
2013-2019 Ombudsman