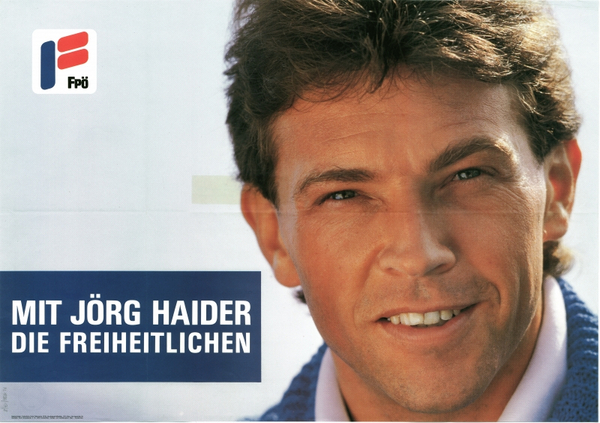 National Council election 1986
The early National Council election of 23 November 1986 was the first occasion on which Jörg Haider stood as the FPÖ's lead candidate. The Freedom Party was able to poll 9.73 per cent of the vote, which amounted to an increase of 4.75 percentage points and thus a near doubling of its vote share. That translated into 18 National Council seats (an increase of 6).
The SPÖ lost heavily; the ÖVP also suffered slight losses. The Greens entered Parliament for the first time.
Brief description of the election campaign
For Austria, 1986 was a turbulent year domestically. On the one hand, Kurt Waldheim was elected Federal President, despite the affair named after him, and on the other, Jörg Haider took over the leadership of the FPÖ at the Innsbruck party conference. Under Norbert Steger, the FPÖ had since 1983 been in coalition with the SPÖ. The chancellor was Fred Sinowatz, who resigned after Waldheim's election and handed over to Franz Vranitzky, who, after Haider took over, terminated the coalition with the FPÖ and caused an early election to take place.
For the freedom Party, Haider's election as Party Chairman and his assumption of the role of lead candidate constituted a paradigm shift. Politically highly talented, Jörg Haider was very popular among the population and had already proved successful in Carinthia. Since polls showed that the Freedom Party would be unable to re-enter parliament if it positioned itself as a junior government party, there was widespread internal support for Haider and a fresh wind blowing through the Freedom Party.
Haider was depicted on election posters alongside the slogan "Ein Politiker der neuen Art" ("A new kind of politician"); in other words, as a breath of fresh air not only for the Freedom Party, but also for the whole country.
Election result
The following parties and electoral lists, among others, stood for election at the National Council election of 1986:
Sozialdemokratische Partei Österreichs (SPÖ)
Österreichische Volkspartei (ÖVP)
Freiheitliche Partei Österreichs (FPÖ)
Die Grüne Alternative – Liste Freda Meissner-Blau (GRÜNE)
Kommunistische Partei Österreichs (KPÖ)
Aktionsliste "Mir reicht's!" (MIR)
Die Grünalternativen – Demokratische Liste (GAL)
VGÖ – VÖGA – Unabhängige Gemeinderäte
| | | | | | |
| --- | --- | --- | --- | --- | --- |
| Parties | Votes | Vote share 1986 | ± | Seats 1986 | ± |
| SPÖ | 2,092,024 | 43.1% | -4.5% | 80 | -10 |
| ÖVP | 2,003,663 | 41.3% | -1.9% | 77 | -4 |
| FPÖ | 472,205 | 9.7% | +4.7% | 18 | +6 |
| GRÜNE | 234,028 | 4.8% | n.a. | 8 | +8 |
Government formation
Notwithstanding the FPÖ's election victory, 1986 marked the beginning of the so-called "Vranitzky Doctrine": never form a coalition with the FPÖ under Jörg Haider. The Grand Coalition was therefore brought back to life, with the SPÖ's Franz Vranitzky as Chancellor and the ÖVP's Alois Mock as Vice-Chancellor.