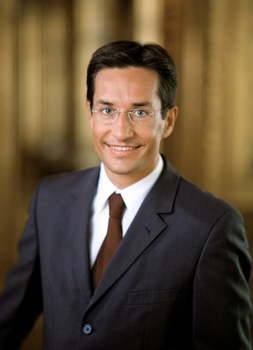 Mag. Karl-Heinz Grasser (*1969)
Deputy Provincial Governor, Carinthia (1994-1998)
Federal Minister for Finance (2000-2007, until 2003 FPÖ)
Karl-Heinz Grasser was Deputy Provincial Governor of Carinthia from 1994 until 1998 and from 2000 until 2003 FPÖ Minister for Finance.
Short biography
Karl-Heinz Grasser was born on 2 January 1969 in Klagenfurt. His parents were Freedom Party sympathisers who ran a car dealership in Klagenfurt. After graduating from high school in 1987, Grasser studied business management in Klagenfurt and was subsequently persuaded to go into politics by Jörg Haider – initially as the managing director of the FPÖ Political Academy, and then as General Secretary of the FPÖ.
In 1994, at the age of just 25, Grasser was elected FPÖ Deputy Provincial Governor of Carinthia, a position he retained under Provincial Governor Christoph Zernatto (ÖVP) until 1999. His subsequent move into the private sector when he went to work for Magna International was of only short duration as not even one year later Grasser returned to politics as an FPÖ candidate.
In the course of the formation of the ÖVP-FPÖ coalition after the 1999 elections, he was sworn in as Federal Minister for Finance.
In September 2002, in the wake of the events at Knittelfeld, Grasser, together with FPÖ Vice-Chancellor Susanne Riess and Chairman of the Parliamentary Party Peter Westenthaler, resigned from their positions, whereupon the ÖVP called new elections, ending the coalition. After the elections in early January 2003, Grasser resigned from the FPÖ.
Essential political functions
1993-1994 Managing Director of the Freedom Academy

1993-1994 Secretary General of the FPÖ

1994-1998 Deputy Governor of Carinthia

2000-2007 Federal Minister of Finance (From 2000-2003 FPÖ)
Web links to the person
Mag. Karl-Heinz Grasser on the parliament homepage: