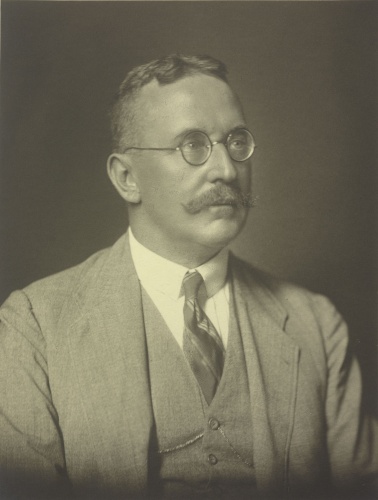 Franz Dinghofer (1873 – 1956)
Mayor of Linz 1907-1918
President of the Provisional National Assembly 1918-1919
Vice-Chancellor of the Republic of Austria 1926-1927
Federal Minister for Justice 1927-1928
President of the Supreme Court of Justice 1928-1938
Franz Dinghofer was a significant German-national politician. He proclaimed the First Republic as President of the Provisional National Assembly in which he held numerous high functions, including those of Vice-Chancellor and of Third President of the National Council. He was also mayor of Linz for over 10 years and President of the Supreme Court of Justice in Vienna.
Franz Seraph Dinghofer was born in Ottensheim, Upper Austria, on 6 April 1873. Having graduated from high school in 1892 in the Upper Austrian town of Freistadt, he moved to Graz, where in 1897 he successfully completed his legal studies with a doctorate in law. Whilst at university, he joined the student fraternity Ostmark Graz.
From 1902 he served as a judge in Urfahr and in 1907 was elected mayor of Linz, where he enjoyed great popularity. Among other things, he founded the first allotment gardens, pursued a railway expansion policy as a result of which Linz had more plentiful supplies of food and other necessities than any other city in Austria during the First World War. His term of office also saw the construction of workers' housing and the founding of a municipal office for youth welfare.
From 1911 to 1918 Dinghofer was also a deputy to the Reichsrat (Imperial Council), and since all German deputies became members of the provisional National Assembly in 1918, he became one of the three co-equal presidents of that Assembly. In this capacity and as President of the National Assembly, it was he who on 12 November 1918 proclaimed the First Republic from the ramp of the Austrian Parliament.
In 1919 Dinghofer was elected to the Constituent National Assembly. He became its Third President and remained in the new National Council from 1920 to 1926. In 1920 Dinghofer founded the Greater German People's Party (GDVP), which in the following years repeatedly either supported governments, or was a member of them.
In 1926 he finally became Vice-Chancellor in Ignaz Seipel's cabinet, and in 1927 was appointed Minister for Justice. He resigned this position in 1928 as a result of the so-called Béla Kun affair, withdrew from politics altogether and worked again as a judge. From 1928 to 1938 he was President of the Supreme Court of Justice. Dinghofer died in Vienna on 12 January 1956.
Main political positions
| | |
| --- | --- |
| 1901–1918 | Municipal Councillor, Linz |
| 1907–1918 | Mayor of Linz |
| 1911–1918 | Member of the Imperial Council |
| 1913-1918 | Member of Provincial Parliament, Upper Austria |
| 1918–1919 | President of the Provisional National Assembly |
| 1919–1920 | Third President of the Constituent National Assembly |
| 1920–1928 | Member of the National Council |
| 1920–1926 | Third President of the National Council |
| 1926–1927 | |
| 1927–1928 | Federal Minister for Justice |
| 1928–1938 | President of the Supreme Court of Justice |