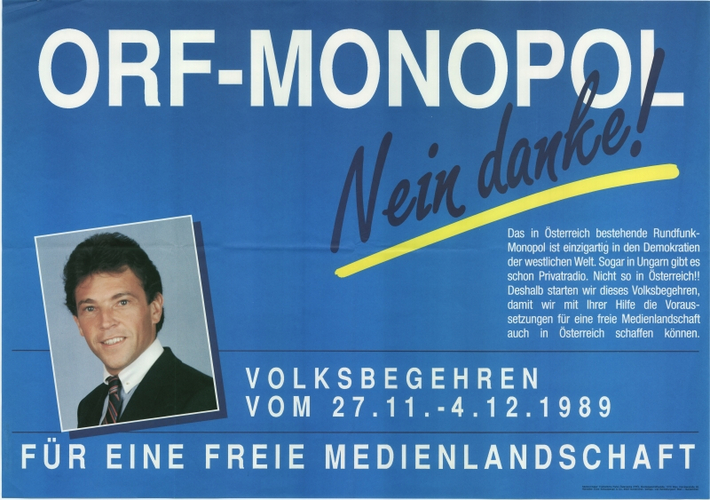 Popular Petition on Safeguarding the Freedom of Broadcasting in Austria.
In 1989, the FPÖ initiated the popular petition on safeguarding the freedom of broadcasting in Austria. The Freedom Party aimed to abolish the monopoly of the ORF (Austrian Broadcasting Corporation) and demanded that private radio and television broadcasters be allowed to operate. The plebiscite obtained the support of 109,197 Austrians (registration week: 27 November to 4 December 1989; rank: 41st of the 50 popular petitions conducted up to 2020).
Short description
The goal of the Freedom Party popular petition was to create a radio and television regulatory framework that took full account of the fundamental right of freedom of the media, in particular through
licensing of private radio and television broadcasters alongside the Austrian Broadcasting Corporation, thus enabling qualitative programme competition (initially in the radio sector);
opening of cable networks to new broadcasting services ("active cable broadcasting");
free distribution and reception of foreign programmes (freedom of cable and satellite reception);
securing opportunities for Austrian film producers, journalists and technicians in international media competition.
The background to the referendum was the fact that the monopoly of the ORF was stifling media freedom in Austria, and private television or radio stations were prohibited. With this initiative, the FPÖ demonstrated that it was thinking into the future.
Impact
With around 100,000 supporters, the referendum fell short of expectations.
It was not until the mid-1990s that Austria's broadcasting landscape underwent liberalisation. In 1993, the Regional Radio Act partially abolished the ORF's monopoly. It was not until years later that the first private stations went on the air.