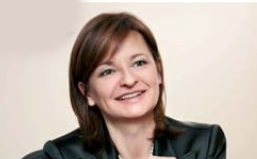 Susanne Riess (1961 - )
Susanne Riess was FPÖ federal party chairwoman from 2000 to 2002. From 2000 to 2003, she was Vice-Chancellor of the Republic of Austria.
Short biography
Susanne Riess was born in Upper Austria on 3 January 1961. She grew up in Salzburg, obtained her high school certificate there and then studied law in Innsbruck.
In 1988 she started working as the FPÖ's federal press officer, and in 1991 entered the Federal Council as a representative of the province of Vienna, a position she retained until 1998. During this time, she was also one of those who, subsequent to Austria's 1995 accession to the European Union, were delegated by the National Council to be a member of the European Parliament until 1996, when Austria first held elections to the European Parliament.
In 1999, she was briefly a member of the parliament of Tyrol, the province in which her life was centred and where she was from 1995 to 2011 married to the Tyrolean Michael Passer. (Note: During this marriage she bore the double-barrelled name Riess-Passer).
Following the autumn 1999 National Council election, she re-entered Austria's Parliament. The February 2000 formation of the new government saw her sworn in as Vice-Chancellor. She also served as Federal Minister for Public Services and Sport.
In spring 2000, she was elected FPÖ federal party chairwoman. This meant that Susanne Riess was not only Austria's first female vice-chancellor, but also the first woman to lead a federal party. The words of long-serving FPÖ chairman Jörg Haider, who said to her in a speech, "Susanne, you go ahead!" became legendary. However, Jörg Haider's decision to step down as federal party chairman led to numerous tensions, which ultimately culminated in the so-called Knittelfeld delegates' meeting in the autumn of 2002, after which Susanne Riess, Peter Westenthaler (chairman of the FPÖ parliamentary party in the National Council) and Federal Finance Minister Karl-Heinz Grasser resigned from all their positions. In 2005, Riess announced her resignation from the FPÖ.
Since 2004, Susanne Riess has been General Director of the Austrian Wüstenrot Group; she also holds numerous supervisory board positions and has since 2020 been president of Österreichische Sporthilfe.
Main political positions
| | |
| --- | --- |
| 1988–1991 | FPÖ Federal Press Officer |
| 1991–1998 | Member of the Federal Council |
| 1993–1995 | Chairwoman of FPÖ Federal Council Parliamentary Group |
| 1995–1996 | Member of the European Parliament |
| 1996–2000 | Executive FPÖ Federal Party Chairwoman |
| 1997–1998 | Chairwoman of FPÖ Federal Council Parliamentary Group |
| 1999–1999 | Provincial Member of Parliament, Tyrol |
| 1999–2000 | Member of the National Council |
| 2000–2002 | FPÖ Federal Party Chairwoman |
| 2000–2003 | Federal Minister for Public Services and Sport |
| 2000–2003 | Vice-Chancellor of the Republic of Austria |
Weblinks
Susanne Riess on the web pages of the Austrian Parliament: