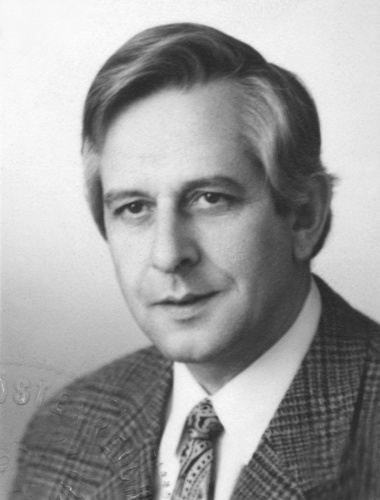 Helmuth_Josseck_c_PArlament.jpg
Ombudsman (1983-1989)
Member of the National Council (1971-1983)
Helmuth Josseck was a long-serving member of the National Council and succeeded Gustav Zeillinger to become the Freedom Party's second Ombudsman.
Short biography
Helmuth Josseck was born in Graz, Styria, on 15 June 1921. Having completed his studies at the commercial secondary school (Handelsakademie) in Graz, he served as an officer in the Second World War. Thereafter, he studied economics at what is now the Vienna University of Economics and Business, as well as at the University of Innsbruck, graduating with a degree in economics. Whilst studying, he joined the student fraternity Olympia Vienna. In 1957 he qualified as a tax accountant and subsequently worked as an independent tax consultant and court-certified expert. He also served as auditor for the full party executives of the FPÖ Upper Austria and of the federal FPÖ.
The origins of Josseck's political activity date back to 1967, when he became a municipal councillor in Wels, Upper Austria. He joined the provincial party executive of the FPÖ Upper Austria and in 1971 was elected to represent the FPÖ in the National Council, where he was responsible for fiscal, economic and financial policy. In 1980, he became deputy chairman of the FPÖ parliamentary party in the National Council. Finally, in 1983, he was the FPÖ's successful candidate for the office of Ombudsman, a position he was to occupy for one term, that is to say until 1989, when he retired. In addition to his official posts, Josseck was also the federal FPÖ's long-serving finance officer. In 2000 he took over the FPÖ-internal role of citizens' advocate (Bürgeranwalt).
Helmuth Josseck was awarded the Grand Decoration for Services to the Republic of Austria, the Grand Decoration in Gold with Sash for Services to the Republic of Austria and the Grand Decoration in Gold of the Province of Styria. He passed away on 2 May 2007 in Wels.
Main political positions
| | |
| --- | --- |
| 1967-1983 | Municipal Councillor, Wels, Upper Austria |
| 1971–1983 | Member of the National Council |
| 1980–1983 | Deputy Chairman of the FPÖ Parliamentary Party in the National Council |
| 1983–1989 | Ombudsman |