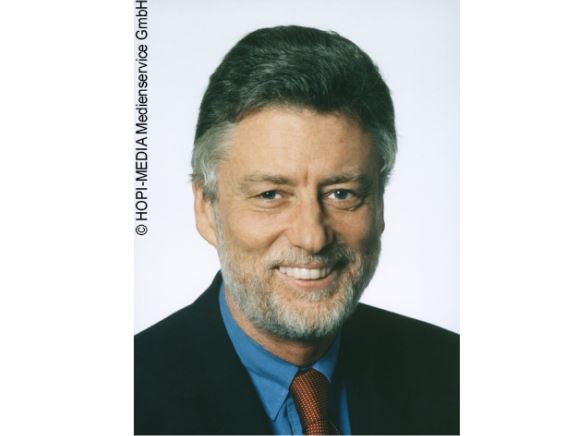 Holger Bauer (1942 – )
Member of the National Council from 1980 to 1983 and 1986 to 1999
Secretary of State (junior minister) in the Federal Ministry for Finance from 1983 to 1987
Deputy FPÖ Federal Party Chairman from 1986 to 1999
During the 1980s and 1990s, Holger Bauer was an FPÖ member of the National Council for a total of three terms. In the government headed by Sinowatz, he held the junior minister post of Secretary of State in the Federal Ministry for Finance. He was deputy FPÖ federal party chairman.
Short biography
Holger Bauer was born in Schärding am Inn, Upper Austria, on 7 November 1942. In 1970, he graduated from the Vienna University of Economics and Business with a degree in business and the title of "Diplom-Kaufmann". He commenced his journalism career working as a press aide in the FPÖ's federal party office. From 1971 until 1976, he was the party's federal press officer.
In 1973, Holger Bauer became a member of the Vienna Provincial Parliament and Municipal Council. In 1979, he became deputy chairman of the FPÖ Vienna, which was then led by Norbert Steger.
Bauer first became a member of National Council in 1980, as one of the FPÖ's intake of 11 MPs. Three years later, he joined the SPÖ-FPÖ coalition headed by Chancellor Fred Sinowatz as junior minister ("state secretary") in the Ministry for Finance. In 1986 he was also appointed deputy FPÖ federal party chairman.
After the government was dissolved in 1986, Holger Bauer re-entered the National Council and subsequently won a third term, which meant that he remained an MP until 1999. He focused in the main on economic and financial policy.
In addition to his political activity, he continued after 1976 to work as a business editor of the "Wiener Zeitung" and from 1986 to 1997 was a staff member of the Federal Press Service in the Federal Chancellery.
He ended his political career in 1999. Holger Bauer holds the Grand Decoration in Silver with Sash for Services to the Republic of Austria (1986).
Main political positions
| | |
| --- | --- |
| 1971-1976 | FPÖ Federal Press Officer |
| 1973-1980 | Member of the Vienna Provincial Parliament and Municipal Council |
| 1979-1991 | Deputy Provincial Party Chairman, FPÖ Vienna |
| 1980-1983 | Member of the National Council |
| 1983-1987 | Secretary of State (junior minister) in the Federal Ministry for Finance |
| 1986-1990 | Deputy FPÖ Federal Party Chairman |
| 1986-1997 | Staff Member, Federal Press Service in the Federal Chancellery |
| 1986-1999 | Member of the National Council |