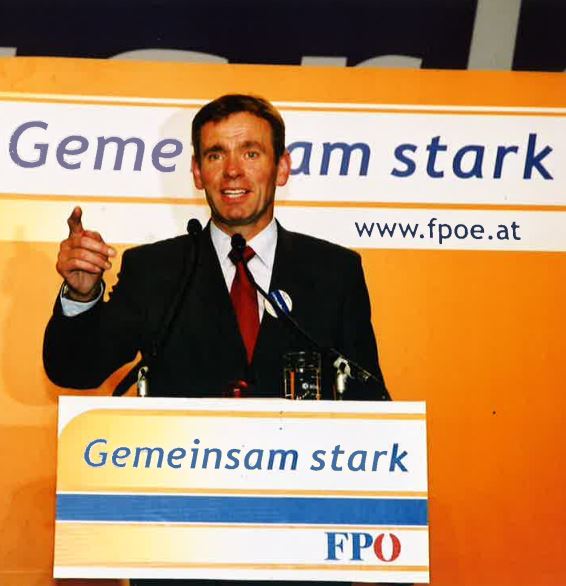 Mathias Reichhold (1957 - )
Mathias Reichhold was FPÖ federal party chairman in 2002. From 2002 to 2003, he was Federal Minister for Transport, Innovation and Technology. In addition, he was Deputy Governor of Carinthia from 1992 to 1994 and from 1998 to 2001.
Short biography
Mathias Reichhold was born on 5 July 1957. In 1976 he graduated from the college for agricultural technology in Wieselburg, Lower Austria, after which he passed his teacher training examination for agricultural education. He subsequently taught until 1985 at the Office Management and Administration School in Sankt Georgen am Längsee, Carinthia, where he still runs a large farm today.
In 1988 Reichhold became FPÖ General Secretary and in 1990 he won a seat in the National Council. In 1992 he was elected Deputy Governor of Carinthia and served in that role until 1994.
From 1994 to 1998, Reichhold was again a member of the National Council and in 1995 briefly also served as a member of the European Parliament. He returned to Carinthia to be Deputy Governor from 1998 to 2001.
In 2002 he succeeded Monika Forstinger as Federal Minister for Transport, Innovation and Technology. Following the "Knittelfeld Putsch", he briefly became FPÖ federal party chairman and the party's lead candidate at the early new elections. He resigned from these positions for health reasons, however, and Herbert Haupt took over both the party leadership and the role of lead candidate.
In February 2003, Reichhold resigned as Federal Minister and withdrew from politics. He initially devoted himself to his farm, before becoming a manager at Magna Steyr and later a board member at Asfinag.
Main political positions
| | |
| --- | --- |
| 1988–1990 | FPÖ General Secretary |
| 1990–1992 | Member of the National Council |
| 1992–1994 | Deputy Governor of Carinthia |
| 1994–1998 | Member of the National Council |
| 1995–1996 | Member of the European Parliament |
| 1995–1996 | Deputy Governor of Carinthia |
| 2002–2003 | Federal Minister for Transport, Innovation and Technology |
| 2002 | FPÖ Federal Party Chairman |