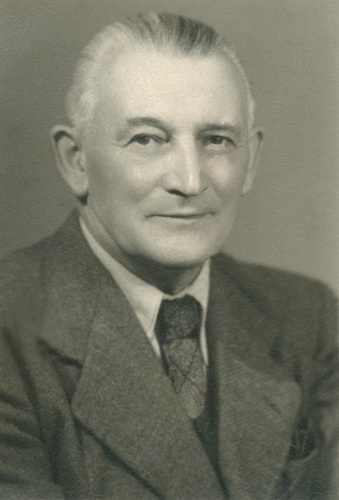 Max Stendebach (1892-1984)
Founding Member and name-giver of the FPÖ 1955/56
Member of the National Council (WdU, FPÖ) 1953-1959


Max Stendebach was federal party chairman of the Verband der Unabhängigen (League of Independents, or VdU), the FPÖ's predecessor party. He was an active member of the group charged with founding the FPÖ and is responsible for suggesting the name "Freiheitliche Partei".
Short biography
Max Stendebach was born in Leipzig, in what was then the German Empire, on 11 January 1892. He attended a grammar school in Leipzig, from which he obtained his high school certificate in 1911.
He served at the front in the First World War and became an officer. Afterwards, Max Stendebach studied social sciences and economics, but in 1929 decided to pursue an agricultural training course. Stendebach also worked at an institute for cultural morphology. In the early 1930s he moved to Carinthia to pursue farming with his wife (at Gut Radweg, near St.Veit an der Glan). Stendebach was re-drafted during the Second World War and deployed on the Eastern Front at the siege of Leningrad, as part of the alpine light infantry. He ultimately achieved the rank of colonel.
He became an Austrian citizen in 1947. He joined the League of Independents (VdU) and in 1952 was a candidate for the chairmanship of its Carinthian branch, but lost out to Otto Scrinzi. In the same year he was elected to be the VdU's federal party chairman.
Max Stendebach was elected to the National Council in 1953 as a member of the VdU (WdU). He was actively involved in the founding of the Freedom Party. On 17 October 1955, in Vienna's Café Landtmann, Stendebach (representing the VdU) decided with Anton Reinthaller (who represented the Freiheitspartei) that their two parties would merge. Stendebach proposed the name "Freiheitliche Partei Österreichs" (Freedom Party of Austria), which was ultimately the name given to the new party. He retained his National Council seat until 1959.
He died on 18 December 1984 in Sankt Veit an der Glan, Carinthia.
Main political positions
| | |
| --- | --- |
| 1952-1956 | VdU Federal Party Chairman |
| 1955-1956 | Founding member and name-giver of the FPÖ |
| 1955-1959 | Member of the National Council (WdU, FPÖ) |
Literature on Max Stendebach
Lothar Höbelt: Von der vierten Partei zur dritten Kraft. Die Geschichte des VdU. Leopold Stocker Verlag, Graz/Stuttgart 1999, ISBN 3-7020-0866-7, p. 173.
Kurt Piringer: Die Geschichte der Freiheitlichen. Beitrag der Dritten Kraft zur österreichischen Politik. Orac-Pietsch Verlag, Vienna 1982, ISBN 3-85369-913-2, p. 35.