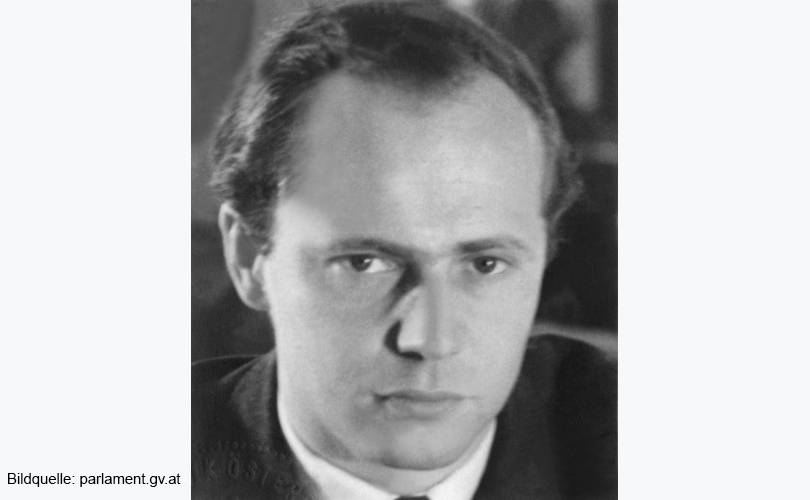 Viktor Reimann (1915 - 1996)
Co-founder of the VdU
Editor-in-chief of the "Neue Front"

Viktor Reimann was active in the resistance against Austrian National Socialism. He was co-founder of the "German Freedom Movement" (later: "Austrian Freedom Movement"). A victim of political persecution, he was imprisoned from 1940-1945.
In 1949 he co-founded the League of Independents (Verband der Unabhängigen, or VdU), the predecessor party of the FPÖ, and became a member of its federal executive. Reimann was chairman of the VdU Salzburg, head of the VdU's press department, editor-in-chief of the party newspaper, "Neue Front", and a VdU member of the National Council from 1949 to 1956.
As a journalist and book author, Viktor Reimann was also a key figure in the development of Austria's independent press. He was press officer at the Austrian Federal Theatres from 1956 to 1960. In the 1970s, he worked as editor of the "Neue Kronen Zeitung", was head of its culture section and one of its domestic politics commentators and columnists. He was also a journalist at the Salzburger Nachrichten.
You can access the video here: Der VdU - die Rückkehr des Dritten Lagers
Publications by Viktor Reimann
Zu gross für Österreich: Seipel und Bauer im Kampf um die Erste Republik (Molden, Vienna 1968)
Dr. Joseph Goebbels (Molden, Vienna 1971)
Bruno Kreisky: Das Porträt eines Staatsmannes. Mit Karikaturen von Ironimus (Molden, Vienna 1972)
Die Dritte Kraft in Österreich (Molden, Vienna 1981)
Innitzer. Kardinal zwischen Hitler u. Rom. (Amalthea, Vienna, Munich 1988)
Fünf ungewöhnliche Gespräche: Jörg Haider - Emil Jannings - Bruno Kreisky - Karl Roman Scholz - Heinrich von Srbik (Ueberreuter, Vienna 1991)
Weblinks
Viktor Reimann on Wikipedia
Viktor Reimann on the web pages of the Austrian Parliament