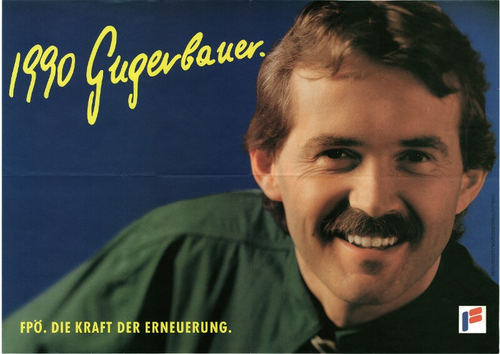 Norbert Gugerbauer (1950 – )
Member of the National Council 1983-1993
FPÖ General Secretary 1986-1988
Provincial Party Chairman, FPÖ Upper Austria, 1989-1992
Chairman of the FPÖ Parliamentary Party in the National Council 1989-1992
Norbert Gugerbauer is a lawyer who entered the National Council in 1983. He held the role of FPÖ general secretary from 1986 to 1988, and the role of chairman of the FPÖ parliamentary party in the National Council from 1989 to 1992.
Short biography
Norbert Gugerbauer was born in Schwanenstadt, Upper Austria, on 11 February 1950. He completed his law studies at Vienna University in 1977 with a doctorate and has since 1981 been working throughout Europe as an independent lawyer. Today, he is senior partner in a Vienna-based law firm. His career has included a number of years working in Brussels.
Norbert Gugerbauer is founder of the internet platform "Grundbuch, Firmenbuch, GISA, Gesetz – JUSLINE Österreich", which aims to provide legal information to all. He is also a distinguished lecturer on business law and has taught at a diverse range of university departments in German-speaking countries, including St. Gallen, Switzerland, Vienna, Linz and Innsbruck.
Gugerbauer was already politically active while a student and become deputy chairman of the Austrian National Union of Students in 1973/74. His political career began in 1979, when he became a member of the city and municipal council of Schwanenstadt, and he remained an active member of both until 1986.
His high-level political career endured for the decade from 1983 to 1993. He was a member of the Austrian National Council for three terms (legislative periods XVI to XVIII). During this period, he also served as chairman of the parliamentary "National Defence Committee" (1983-1986) and as FPÖ general secretary (1986-1988). He was subsequently deputy FPÖ federal party chairman (1988) and party chairman of the FPÖ Upper Austria (1989 to 1992). He was the Freedom Party's lead candidate at the 1990 National Council elections. His last active party function was that of chairman of the FPÖ parliamentary party in the National Council (1989-1992).
Gugerbauer's withdrawal from politics was due to differences of opinion between him and Jörg Haider, with whom he had worked very closely at the end of the 1980s.
Gugerbauer holds the Grand Decoration in Gold with Star for Services to the Republic of Austria (1992).
Main political positions
| | |
| --- | --- |
| 1973–1974 | Deputy Chairman, Austrian National Union of Students |
| 1979–1986 | Municipal Councillor and City Councillor, Schwanenstadt |
| 1983–1993 | |
| 1986–1988 | FPÖ General Secretary |
| 1988 | Deputy FPÖ Federal Party Chairman |
| 1889–1992 | Provincial Party Chairman, FPÖ Upper Austria |
| 1989–1992 | Chairman of the FPÖ Parliamentary Party in the National Council |
Publications by Norbert Gugerbauer (selection)
Norbert Gugerbauer is the author of numerous legal publications. He is one of the co-editors of the Österreichische Zeitschrift für Kartell- und Wettbewerbsrecht (Austrian Journal of Antitrust and Competition Law) and is part of the Advisory Board of the European Competition Journal, London.
His most successful works include:
Gewährleistung, Garantie, Kulanz im KFZ-Handel und -Gewerbe. Vienna 2007, Verl. Österreich. ISBN: 978-3-7046-5131-0
Rechtsschutz im globalisierten Wirtschafts-Wettbewerb: die EG-Verordnung gegen Handelshemmnisse; Kommentar; Anhang: die wichtigsten WTO-Übereinkommen. Vienna 2005, Verl. Österreich- Baden-Baden. ISBN: 978-3-8329-1106-5
Norbert Gugerbauer was also a very successful publisher. In addition to specialist literature, he has also published a number of codices. As an example, one can cite:
Kodex: Wettbewerbs- und Kartellrecht. Wien: Linde, 2015, 3rd edition, of 1.12.2014. ISBN: 978-3-7143-0277-6
Gugerbauer in the Austrian National Library (Österreichische Nationalbibliothek):
https://search.onb.ac.at/primo-explore/search?query=any,contains,gugerbauer%20norbert&tab=default_tab&search_scope=ONB_gesamtbestand&vid=ONB&offset=0
Gugerbauer in the German National Library (Deutsche Nationalbibliothek):
DNB, Katalog der Deutschen Nationalbibliothek
Gugerbauer in the Linde Verlag:
Weblinks
Norbert Gugerbauer on the web pages of the Austrian Parliament: