11/24/2018
Martin Hobek on his book "HC Strache. From Rebel to Statesman"
Interview with the author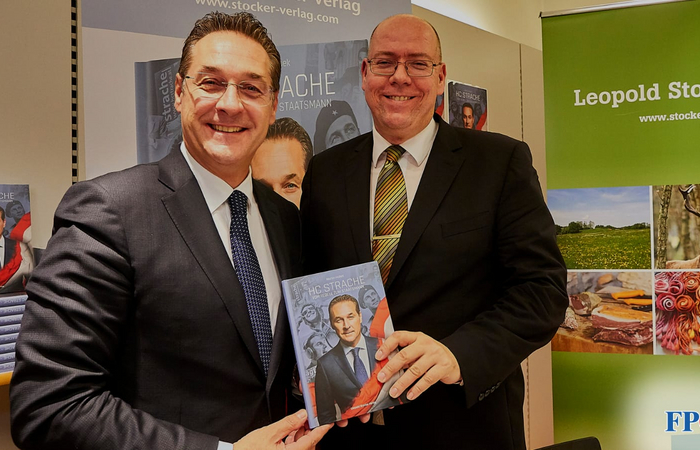 The FPÖ Education Institute conducted the following interview with author Martin Hobek upon his new publication "HC Strache. From Rebel to Statesman" in November 2018:
What exactly is this HC Strache book about?
MH: I wanted to address HC's time as a leading politician. So I asked him when it all began for him, and he mentioned the secret meeting arranged by Herbert Kickl exactly 15 years ago, in the autumn of 2003, and of which only very few were aware prior to the book. I later spent three quarters of an hour coaxing out the details from the pair of them. I ended up with an introduction so exciting that "Der Standard" wrote it reads "like a detective story".
So it's not a classic chronology?
MH: Only in terms of the time aspect. I felt that the lesser-known stories were just as important. If Strache really was a dull brute – as he is so often portrayed in the media – he could never have got this far. Norbert Hofer's sensational success would also not have been possible without HC. I explain how it all happened and take the reader behind the scenes with me. Anecdotal stories such as the chess-like strategy used by the pair as they vied for the candidacy are, naturally, a godsend for an author.
The book is, at times, very personal.
MH: I've been right in the thick of it since 1988. I was right there for the breakaway, for example, and it had a powerful effect on me. Why shouldn't I include the drama when I'm already writing a book? There's already enough paper wasted on boring stories.
The book also contains an unexpected "Background" chapter. Why is that?
MH: Since the FPÖ joined the government there's been a lot of interest in issues such as "Why does the FPÖ include the notion of homeland in its party manifesto?" "How does it view Judaism and Islam?", and so on. I wanted to take this into account. But all good things require effort, so you'll have to read the book to find out more. I hope you enjoy reading it!