07/17/2016
Committees of inquiry as a minority right
A documentation of the struggle for this parliamentary control instrument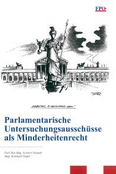 The agreement reached in the Austrian National Council in 2015 to establish the parliamentary committee of inquiry as a minority right is regarded by many as a "milestone" that underlines the eminent importance of democratic policy.
At first, this law made the Hypo Committee of Inquiry possible. In this respect it seemed logical to record this in a book, which FPÖ parliamentary fraction director Norbert Nemeth and office managers HC Strache and Reinhard Teufel did as a group of authors.
In this work, now published by the FPÖ Education Institute, the authors try to build a bridge, from the beginnings in the Constitutional Convention through the media discussion of opinion-makers and decision-makers of this republic to the programmatic reflection in the position papers of the parliamentary groups represented in the National Council. In addition, the legal situation in the individual federal states is presented and compared.
Renowned constitutional law expert Andreas Hauer emphasises in the preface to the book: "Norbert Nemeth and Reinhard Teufel have extensively and knowledgeably documented the long struggle for the minority right to set up parliamentary committees of inquiry and embedded this in numerous interactions."
Nemeth and Teufel show that in parliamentary systems of governance, in which the government has a majority in parliament, control rights can only be effectively used if they are also available to a minority - or the majority is prepared to allow control.
They point out that the most important task of Parliament remains legislation. "Nevertheless, it had to be ensured that effective instruments were also made available for parliamentary control over the activities of the government and administration," the authors said. This would ensure the "quality of government processes in the most comprehensive sense", which the outgoing Federal President Heinz Fischer had once demanded.