04/09/2018
Austria as a Working and Business Location and the (new) Budget Policy in a European Context
Economist Barbara Kolm on the new Federal Government's dual budget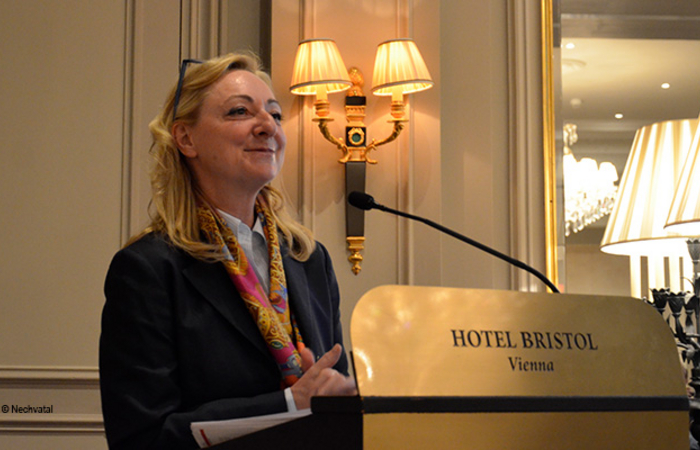 On 9 April 2018, the Liberal Group and the FPÖ Education Institute invited Dr Barbara Kolm to discuss Austria as a working and business location and the budget policy in a European context at Hotel Bristol in Vienna. Roughly 100 interested guests seized the opportunity to hold discussions with the economist afterwards.
Dr Kolm first of all shed light on Europe's economic reality – highly indebted national budgets, unemployment, high taxes, a lack of innovations, failed economic policy and false incentives – before going on to discuss the new Federal Government's budget. She said it was "an initial, very good start". Dr Kolm explained the dual budget between the conflicting priorities of reforms and savings, and pled for self-responsibility, performance and competition, stating that the EU had to "bring responsible citizens to the fore" again.
"We urgently have to bring the principle of performance back into the minds of the people!" Dr Kolm appealed in conclusion.
Dr Barbara Kolm is one of Austria's most prominent economists and enjoys an excellent reputation as an expert. She is a highly sought-after lecturer and a member of relevant economy think tanks.
Barbara Kolm is President of the Friedrich August von Hayek Institute and Director of the Austrian Economics Centre. She previously worked in the private sector and as an assistant at the University of Innsbruck. She is an Associate Professor at the University of Donja Gorica in Podgorica, Montenegro, and is an independent corporate consultant. Dr Kolm's publications deal with market solutions in the areas of education, health, protecting the working and business location and fighting poverty, as well as with the teachings of the Austrian School of Economics. Her lecturing and teaching activities at universities and international conferences deal with topics such as the future of Europe, globalisation, financial crisis, deregulation and competition. Since 2014, she has been one of the 21 members of the Committee for Adoption of Best Practices (CAMP) of the ZEDE (Zone for Employment and Economic Development) Programme run by the President of Honduras.