11/21/2022
Quo Vadis Europe? - Ways out of the energy crisis
Invitation to the event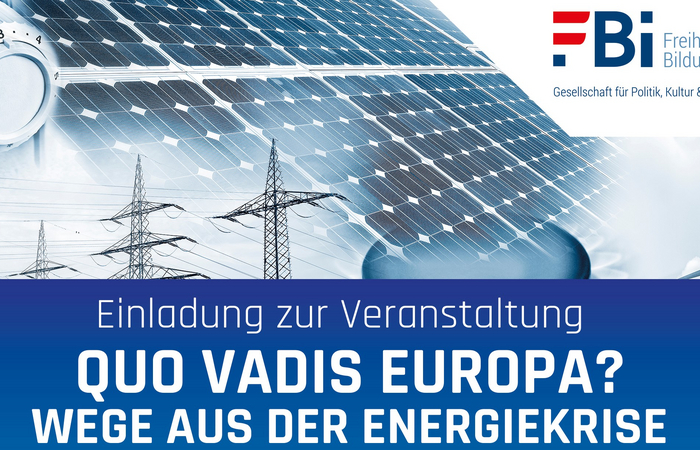 We cordially invite all interested parties to the event "Quo Vadis Europe? - Ways out of the energy crisis" offered by the Freedom Education Institute:

Topic: QUO VADIS EUROPA? - WAYS OUT OF THE ENERGY CRISIS

Time: Tuesday, December 06, 2022, 6:30 p.m.

Place: Palais Palffy, Room Figaro II
Josefsplatz 6, 1010 Vienna

On the podium: Mag. Johannes BENIGNI
Energy analyst
Deputy to NR MMMag. Dr. Axel KASSEGGER
Energy spokesman of the FPÖ, President of the FBI

Moderation: Mag.pth. Marie-Christine GIULIANI

Mag. Johannes Benigni is a profound expert of the energy sector, has been successfully working in the energy sector worldwide for 30 years, advisor to numerous energy companies and international organizations specializing in energy economics and lecturer at international universities.

Dr. Axel Kassegger has been a member of the National Council since 2013, energy spokesman for the FPÖ since 2015, university lecturer and entrepreneur for 20 years, author of books on economic and energy topics and president of the Freedom Education Institute since 2021.